BLACK SHELTER TWIN V2
Regular price
$106.00 USD
Regular price
$0.00 USD
Sale price
$106.00 USD
Unit price
per
Sale
Sold out
Free shipping within Japan (excluding some areas)
* Depending on the situation, production delivery may be delayed, shipping time may be delayed.
残りわずか3個 ご注文はお早めに
About paid warranty service "proteger"

■ If a defect occurs, it can be replaced free of charge.
If you purchase the paid warranty service "proteger" when purchasing the target product of BlackishGear, you can receive a maximum of 2 years warranty.

Manufacturer's warranty (initial failure) 30 days + paid warranty service "proteger" 1 year or 2 years

After subscribing to the paid warranty service, if a defect occurs in the target product during the warranty period, we will replace it with a replacement product free of charge.
*If a replacement product cannot be prepared, a refund will be provided.

Click here for paid warranty application conditions
Click here for the paid warranty service "proteger"
* Paid warranty service "proteger" is a service provided by Kiva Co., Ltd.

■You can subscribe simply by adding the product and warranty plan to your cart and purchasing them together <br/>It is easy to subscribe to the paid warranty service "proteger".
Select "1 year warranty" or "2 year warranty" displayed at the top of the purchase button on the product page, add it to the cart together with the product, and purchase to complete the subscription.

*Warranty selection items are not displayed for products that are not covered by the paid warranty service.

When you purchase a paid warranty service, you will receive an email from proteger with a "warranty number".
Please keep the "Guarantee Number" in a safe place as it will be required when receiving the warranty.

■You can easily apply for a warranty via chat <br/>If you want to receive a warranty, you can apply for it 24 hours a day through the exclusive chat of the paid warranty service "proteger".

Click here for warranty claim

*From here on, it will be the interaction between the customer and Kiva. BlackishGear cannot process warranty claims, so please be sure to use the dedicated chat above.
About payment and delivery

[About payment and delivery]

BlackishGear's online store accepts the following payment methods:

·credit card

You can use four types: VISA, MasterCard, American Express, and JCB.
We also support Google Pay and Apple Pay.

・PayPal

If you have a PayPal account, you can pay through PayPal.

・Amazon Pay
You can pay with the credit card registered in your Amazon account or the Amazon gift card balance.

・Deferred payment (Payday)

You can easily make payments with just your email address and mobile phone number, no credit card required.
Multiple payments can be combined and paid on the 10th of the following month.
If you wish to pay by bank transfer or convenience store payment, please use " pay later" .

・LINE Pay
You can pay with the smartphone payment app LINE Pay.

・PayPay
You can pay with the smartphone payment app PayPay.

・Merpay You can pay with the smartphone payment Merpay that can be used with the Mercari app.

*This site does not currently support payment in installments.
If you wish to pay in installments, please contact your credit card company after making a lump sum payment by credit card.

·Shipping method

Shipping fee is free shipping within Japan. (Excluding Okinawa and overseas)

In the case of shipping to Okinawa and overseas, the shipping fee varies depending on the product, so please check the shipping fee at checkout.
*Prices are subject to change due to the circumstances of the delivery company.

If the product is in stock, it will be sent within 1 to 4 days after confirming payment for the product (excluding Okinawa, remote islands, and overseas).

In the case of pre-order items, we will ship them after the item arrives. Please refer to each product detail page for estimated shipping times.

*Please note that if you purchase an in-stock item and a reserved item together, it will be shipped as soon as all the items are available. If you would like to have the items in stock shipped, please place a separate order.

At the time of shipment, we will send a shipping notification and product tracking number to your email address, so you can check the delivery status.


We will deliver by Sagawa Express or Yamato Transport.

・Re-delivery

After the product has been shipped, if it is not possible to receive it and the delivery company's storage period has passed, the product will be returned to the warehouse.
The storage period is one week including the first delivery date.

Please contact us if you would like to have the item redelivered after it has been returned.
*Please note that the customer will be responsible for the shipping fee for redelivery.
About returns and exchanges

[About cancellations, returns, and exchanges]

1.Returns or exchanges can only be made within 30 days after the arrival of the product if the delivered product is defective or if the product received is different from the ordered product.
(Our shop will bear the shipping costs for returns and exchanges.)
*Please note that we may not be able to respond depending on the content.



2. Cancellation during the pre-sale period will be subject to a cancellation fee of 10% of the total product price.

3. In principle, we cannot accept cancellations, returns, or exchanges for the following items.


・If more than 31 days have passed since the product arrived

・When purchasing outlet products

・In the case of defective accessories only

・When it is suspected that the product has been scratched or soiled by the customer

・If the product is used or has no packaging or accessories

・In addition, if you wish to cancel, return, or exchange for your convenience



4. If you join the paid warranty service "proteger", you can receive a maximum of 1 to 2 years warranty.
If a defective product occurs during the warranty period, we will replace it with a replacement free of charge.
Learn more about paid warranty service here .



*Please be careful before purchasing.



[About refund]

1. Refunds will be made according to the payment method within 5 business days after the returned item arrives.

2. The refund method will be specified by our store and cannot be selected by the customer.

*Refund processing will be completed within 5 business days after contacting us, but the refund time will differ depending on the payment method. If you would like to know more about the timing of refunds, please contact the company that uses your payment method.


The BLACK SHELTER TWIN, which sold out quickly, is back with an upgraded version!
The Black Shelter Twin, which became V2 (version 2), has been reborn as a high-spec black two-pole tent that combines design, customization, and breathability.



I don't want to take care of my surroundings at the camp...
Have you ever had the experience of paying more attention than necessary because the distance to the adjacent site is close or even the free site is crowded?

The biggest feature of this tent is that the front wall and sidewall are standard equipment.
This allows you to secure a sense of privacy while developing a large front room space.



You can enjoy camping in your own space without worrying about prying eyes.



It's a family camp, so if you don't put up a tarp...
If the front room space of the tent is a little wider...
This situation can be completed just by setting up the Black Shelter Twin.



Not only can you flip up the front of the tent, but you can also flip up the back.
If you flip up the front wall as well, you can expand the vast front room space with a maximum total length of about 680 cm.
*Separate flip-up pole is required.



You can secure a living space according to the number of people in both Gurukan and Famikan, so you can spend a spacious and comfortable stay.



The room is too hot in summer
This may be the Black Tent's biggest drawback.
The Black Shelter Twin has been devised to maximize breathability and reduce indoor heat.



Equipped with two large ventilators on the top of the two poles.
The ceiling space is secured by the Y-shaped pole, and the ventilation opening is also designed widely.



The front and back can be rolled up.
By rolling it up, you can create a path for the wind and improve ventilation.



Equipped with mesh on the side opening part of the tent.
Even though the side is open, it prevents insects from entering and ensures ventilation.



Black Shelter Twin adopts TC material.
It is more breathable than polyester tents and allows for better airflow inside the tent.
It is also relatively resistant to sparks, so you can enjoy bonfires.



By adopting a Y-shaped pole, it is designed to take the width of the ceiling part.
The interior space is felt wider than a normal two-pole tent.



Corresponds to all seasons by standard equipment skirt.
It can also prevent drafts in cold weather.



Comes standard with a chimney hole.
The height to the chimney hole is about 140 cm, and the wood stove necessary for winter camping can be easily installed.
You can stay warm and comfortable even in winter.
*Please use a carbon monoxide checker, etc., after management.



Includes loops and rings for guy ropes.
You can easily adjust and reinforce the tension of the tent by passing a guy rope through the ring and putting a loop on it.



The front wall and sidewall roll-up function can be rolled up when not needed.
You can customize it according to your situation.

It is possible to create a sleeping space by installing an optional dedicated inner tent.
From the bedroom to the living room, you can secure the space you need for camping with a single tent.



The inner tent is for 2 to 3 people and can be entered and exited from both sides.
Installation is easy because it is a hanging type.
By installing it on both sides of the tent, you can create 3 rooms, so you can secure sleeping space for up to 6 people.

product name
BLACK SHELTER TWIN V2
contents
Curtain × 1, Y-shaped pole × 2, sub-pole × 4, peg × 22, guy rope × 14
End cap x 4, curtain body fastener x 1, chimney port x 1, various storage bags
Size when set up
Width 600cm x Depth 310cm x Height 195cm
Storage size
Width 75 cm x Depth 32 cm x Height 30 cm
weight
19.7kg
material
T/C (65% polyester/35% cotton)
Water pressure resistance
350mm
country of origin

China
| | |
| --- | --- |
| product name | Inner tent Black Shelter Twin V2 only |
| contents | Inner tent x 1, storage bag x 1 |
| Size when set up | Maximum width 295cm x Depth 170cm x Maximum height 180cm |
| Storage size | Width 33 cm x Depth 30 cm x Height 10 cm |
| weight | 1.3kg |
| material | Polyester 210D + high density mesh |
| Water pressure resistance | 1500mm |
| country of origin | China |
Q. Is the zipper part a double zip? Is it single zip?
A. This product has a single zip.
Q. Is the front wall removable?
A. It cannot be removed. When you don't need it, you can wind it up and use it.
Q. Are the sidewalls and the tent body connected with zippers?
A. There are no zippers on the sidewalls. The product image is installed by hooking the rubber cord attached to the hem to the peg.
Q. What is the material of the attached pole?
A. The pole is made of steel. High-strength steel is used to withstand the weight of the curtain body made of TC material.
Q. How big is the chimney hole?
A. The diameter of the chimney hole is about 9cm.
Q. How high is the chimney hole?
A. The distance from the makushita to the chimney hole is about 140cm.
■ Precautions
・T/C fabric is highly absorbent and does not dry easily, so if it gets wet due to rain, snow, condensation, etc., after using the tent, dry it completely before storing and storing it. Insufficient drying may cause mold and other problems.

・Water droplets may fall due to rain or condensation.

・Before use, be sure to test and check the assembly and contents.

・Do not use fire in or near the tent. Doing so may cause the tent to catch fire or cause burns.

・Ventilate the tent from time to time as the ventilation inside the tent may decrease due to condensation.

・If one person sets up the tent, the fabric and poles may be overloaded and the tent may be damaged.

・When assembling the tent, pay close attention to your surroundings and set it up so that there are no accidents or injuries.

・Firmly fix the tent with pegs and reinforce it with guy ropes so that it does not fall down due to strong winds or rain.

・When you take down the tent, please check all the contents and make sure you do not forget to pull out the pegs.
*The following schedule is planned, but it may change depending on the situation. We appreciate your understanding.
It was published in the outdoor web magazine "Camp Quest" where travelers' adventure records are gathered!
Read article →
It was published in the information media "LANTERN-Lantern-" for everyone who loves camping!
Read article →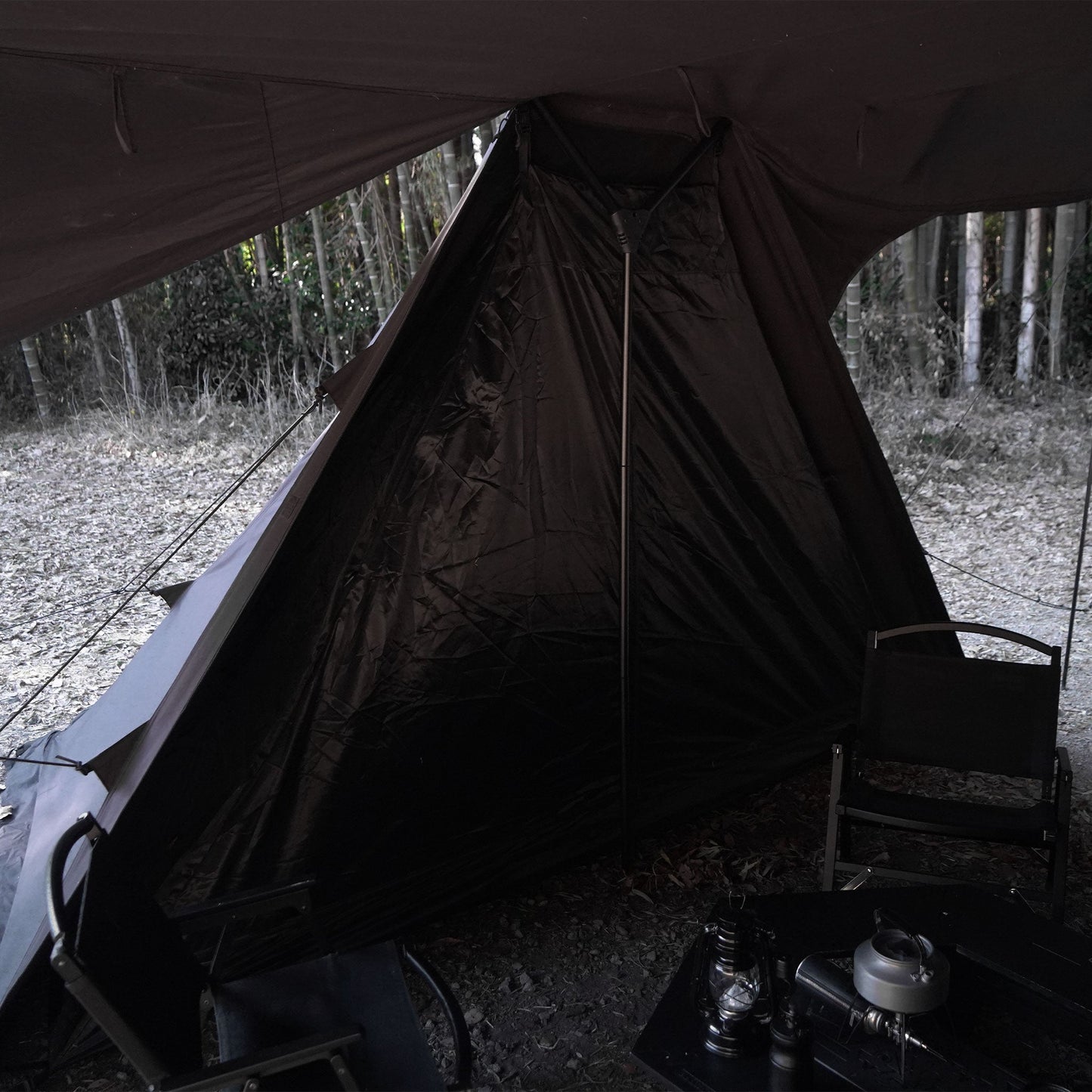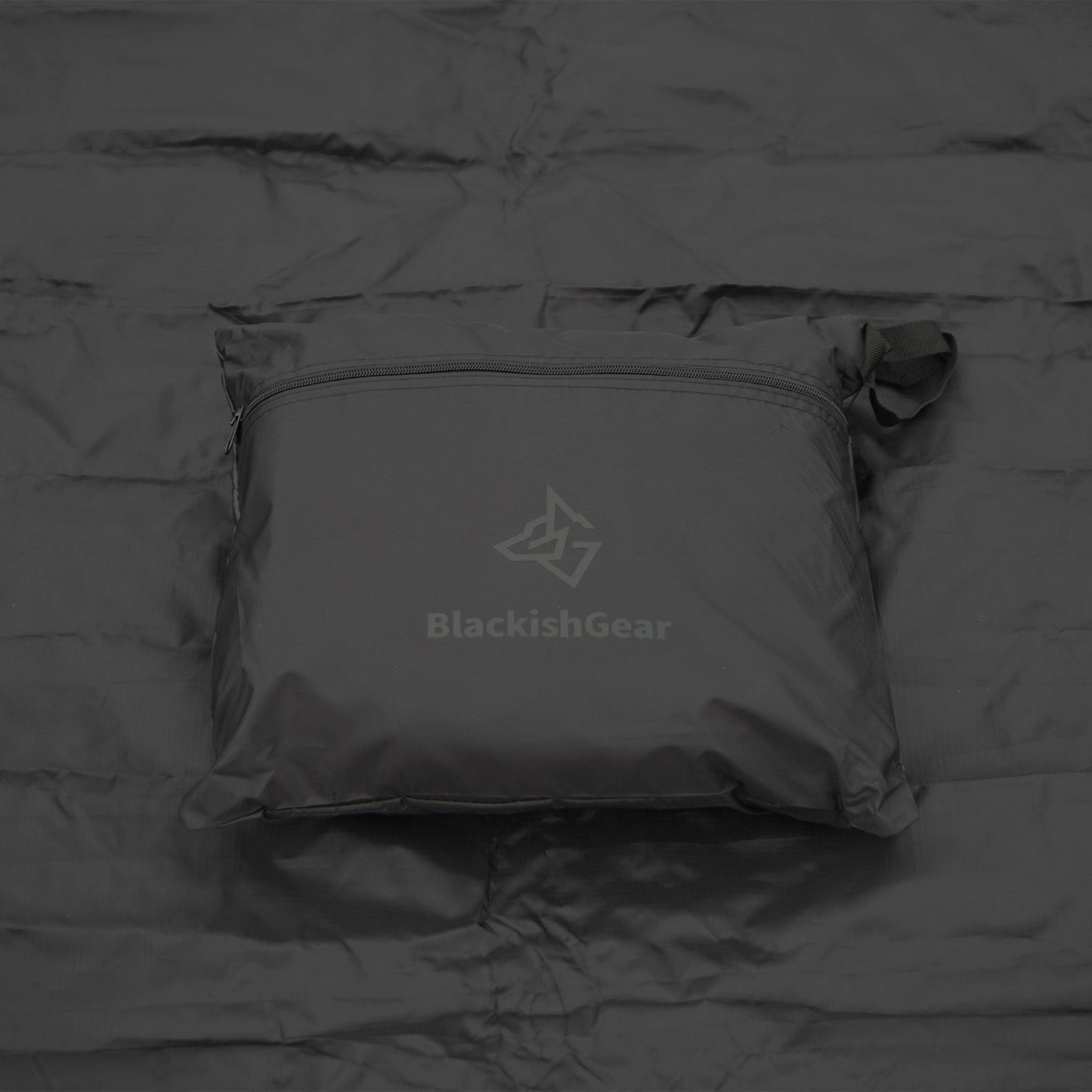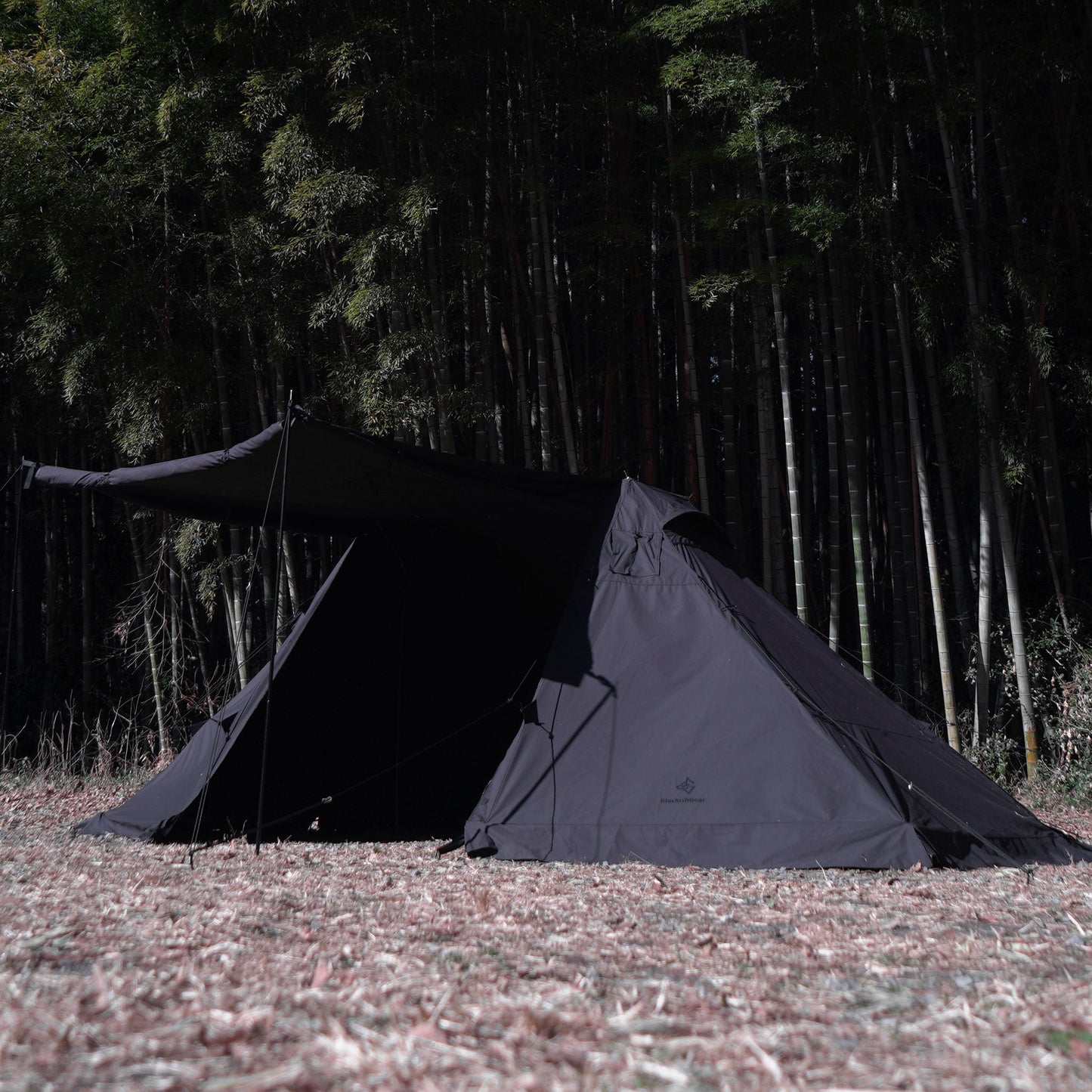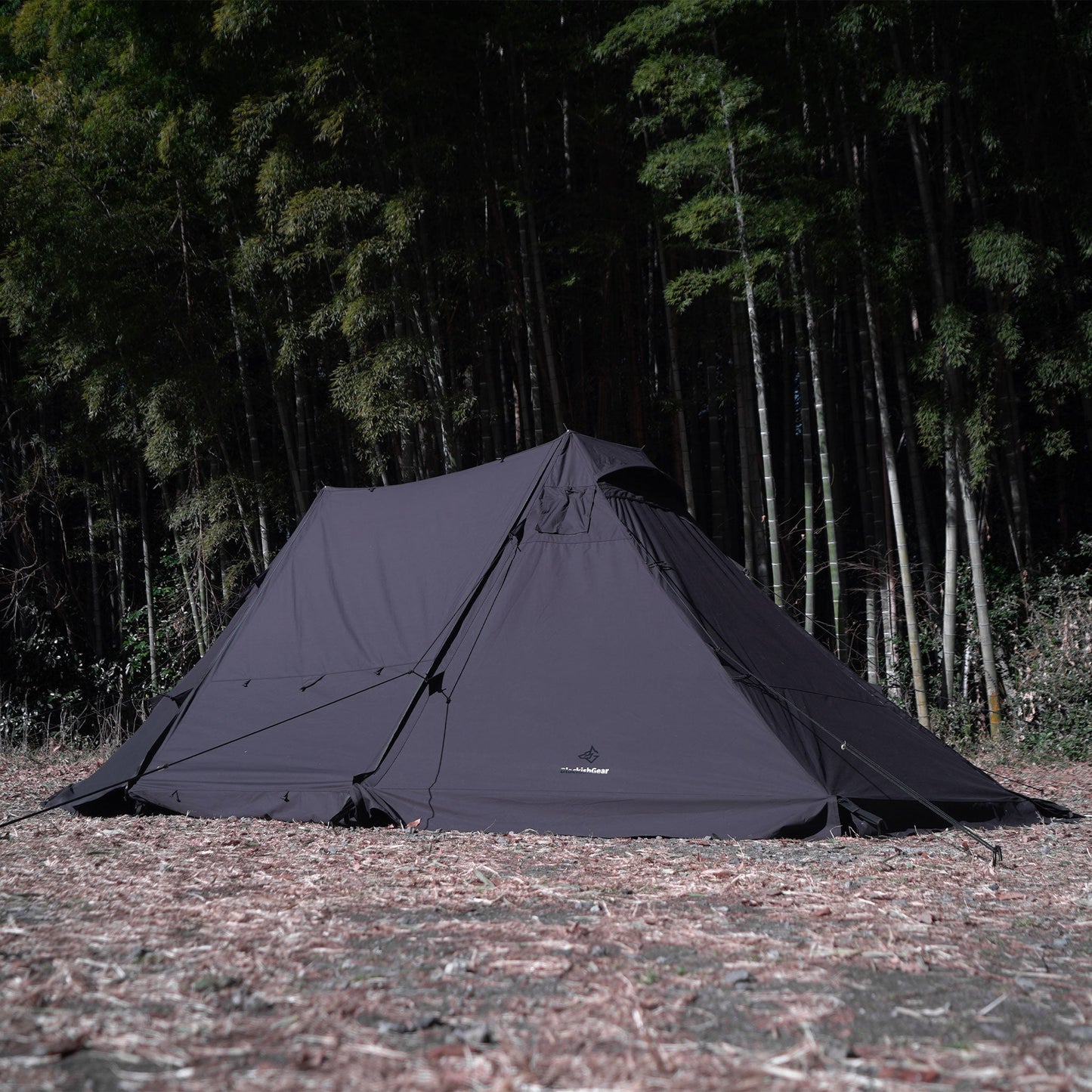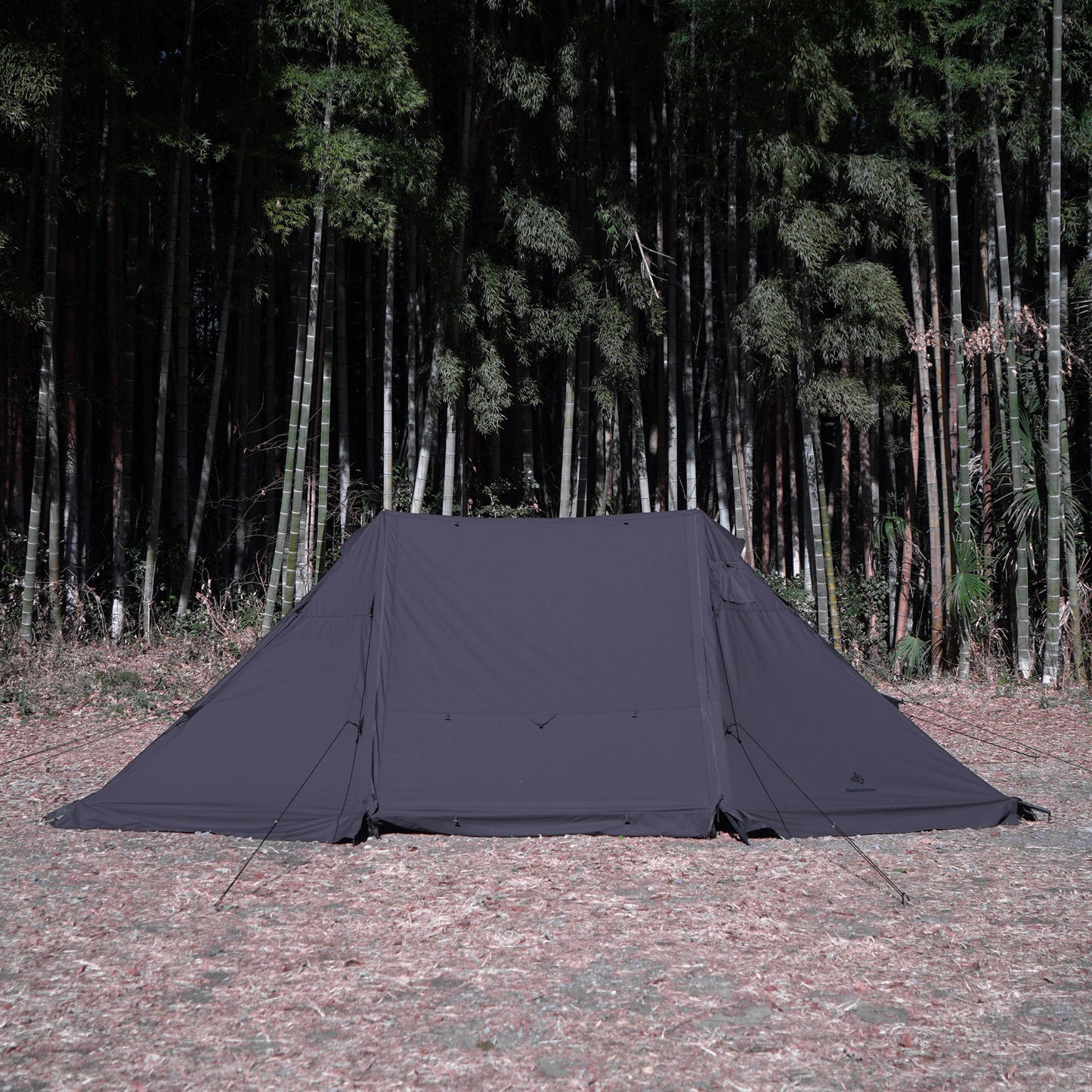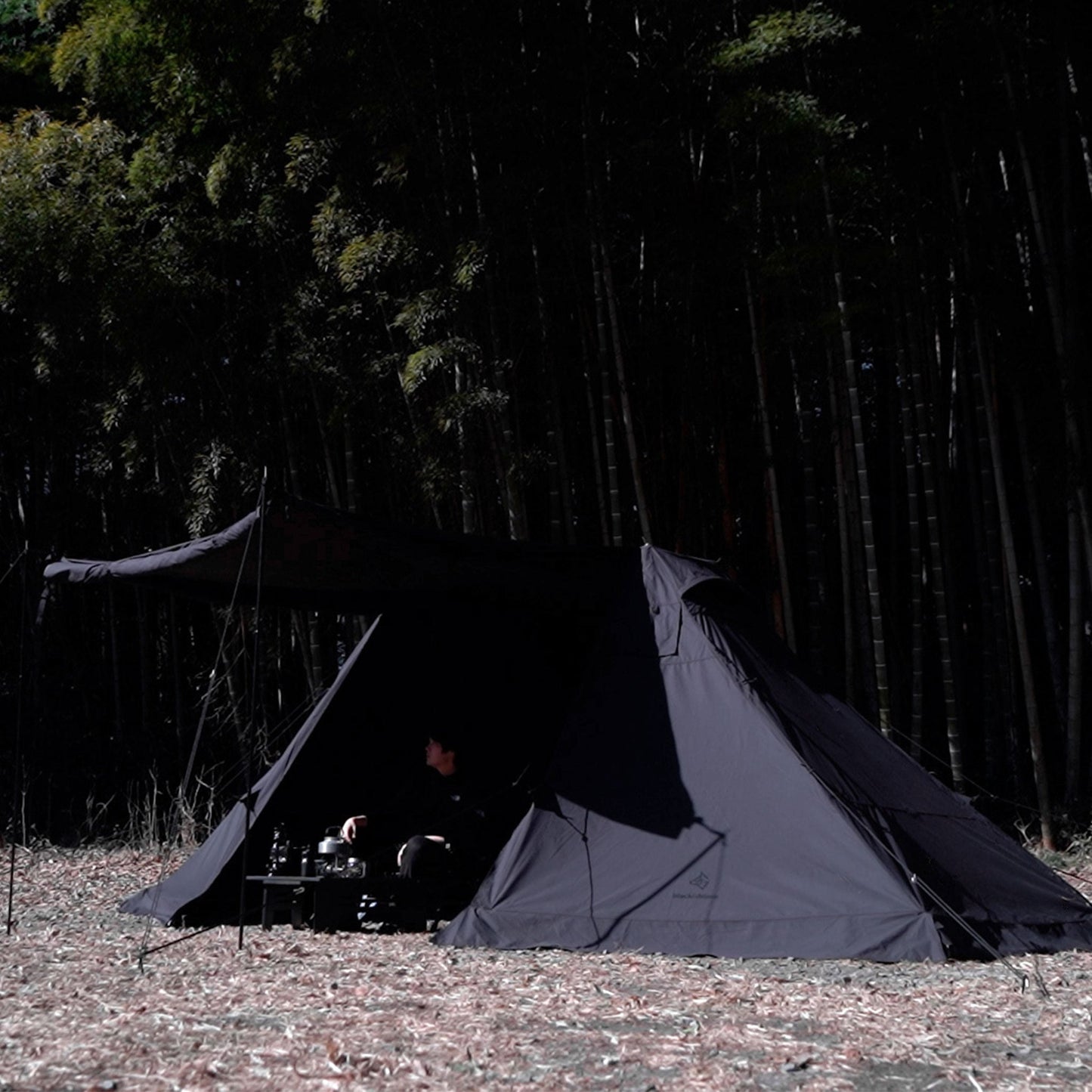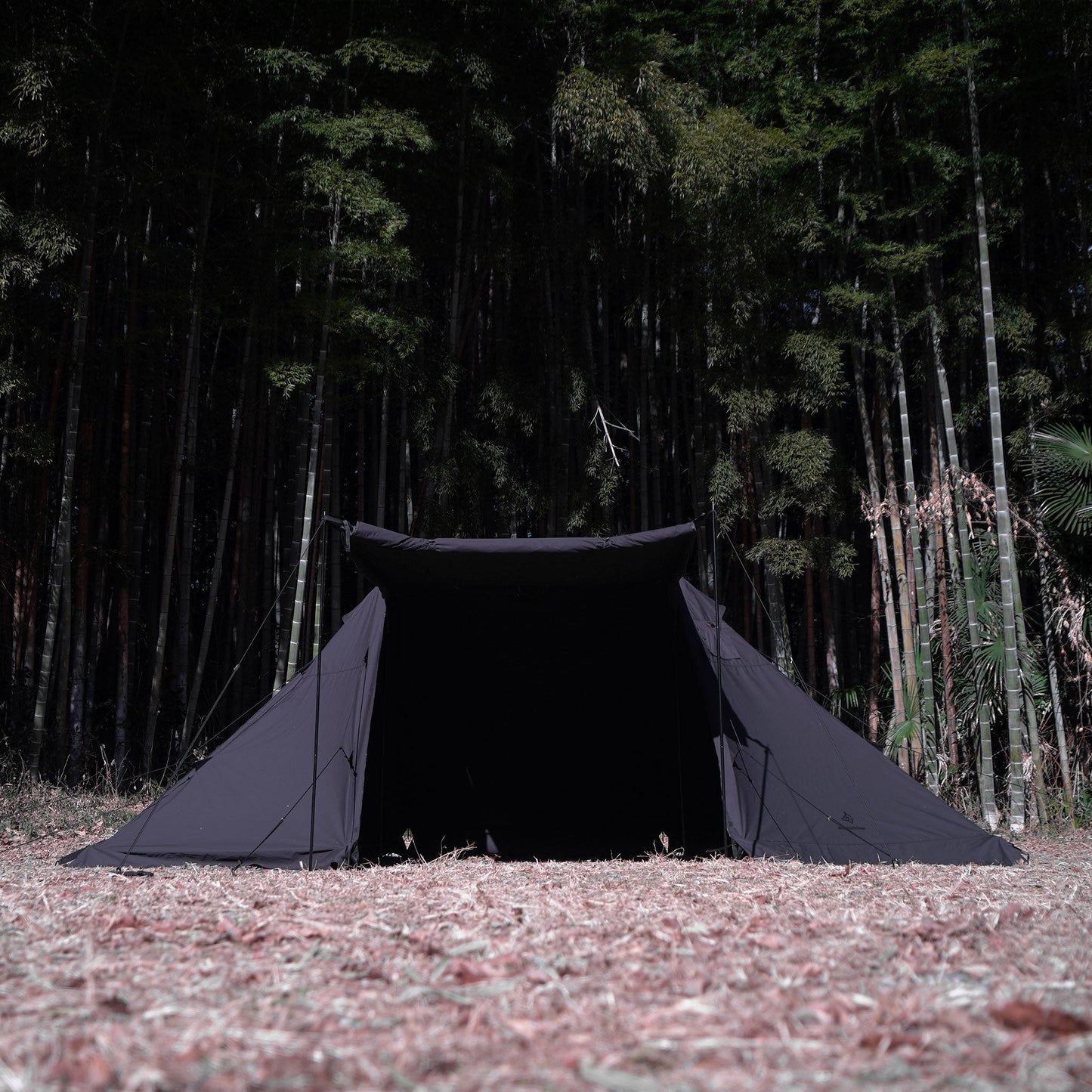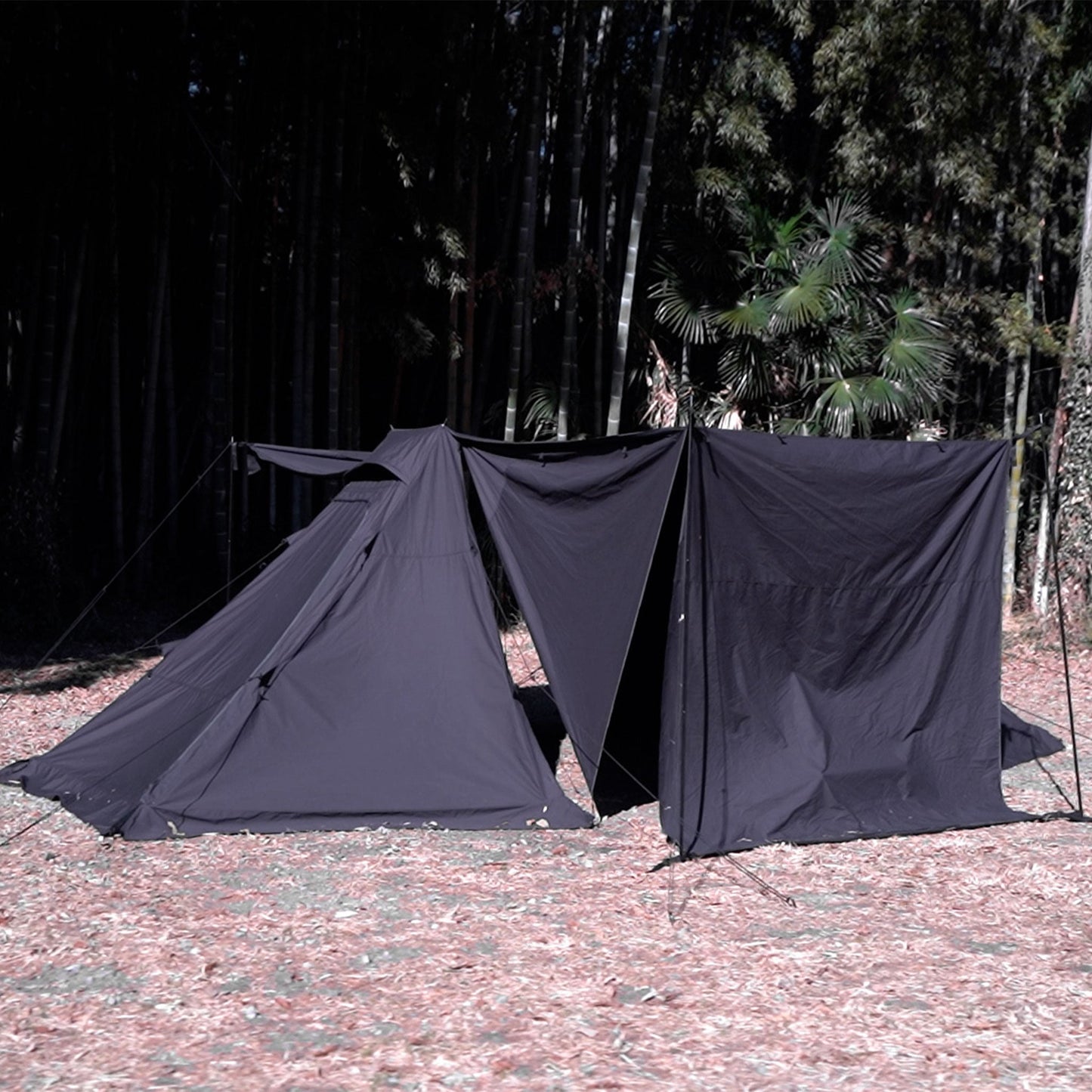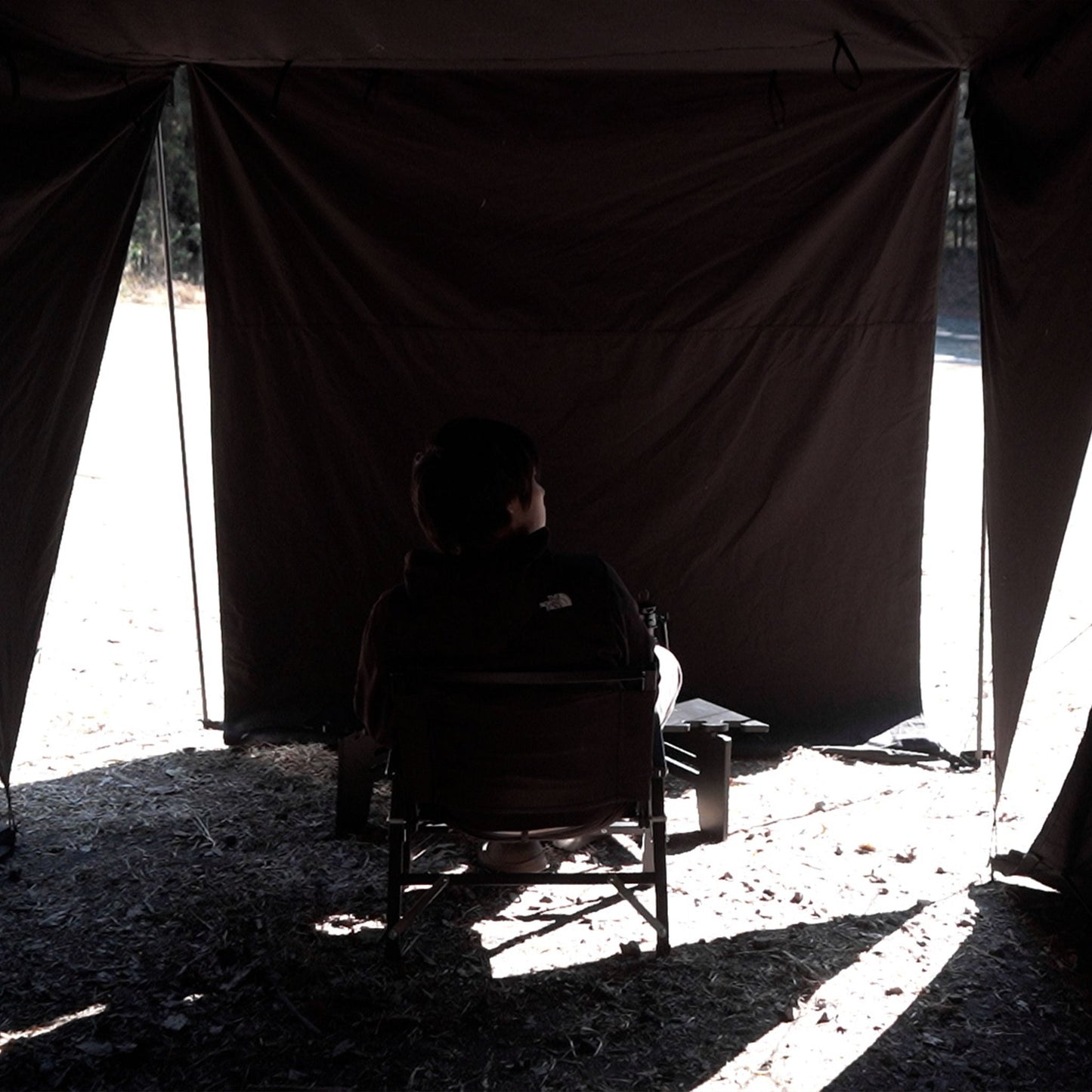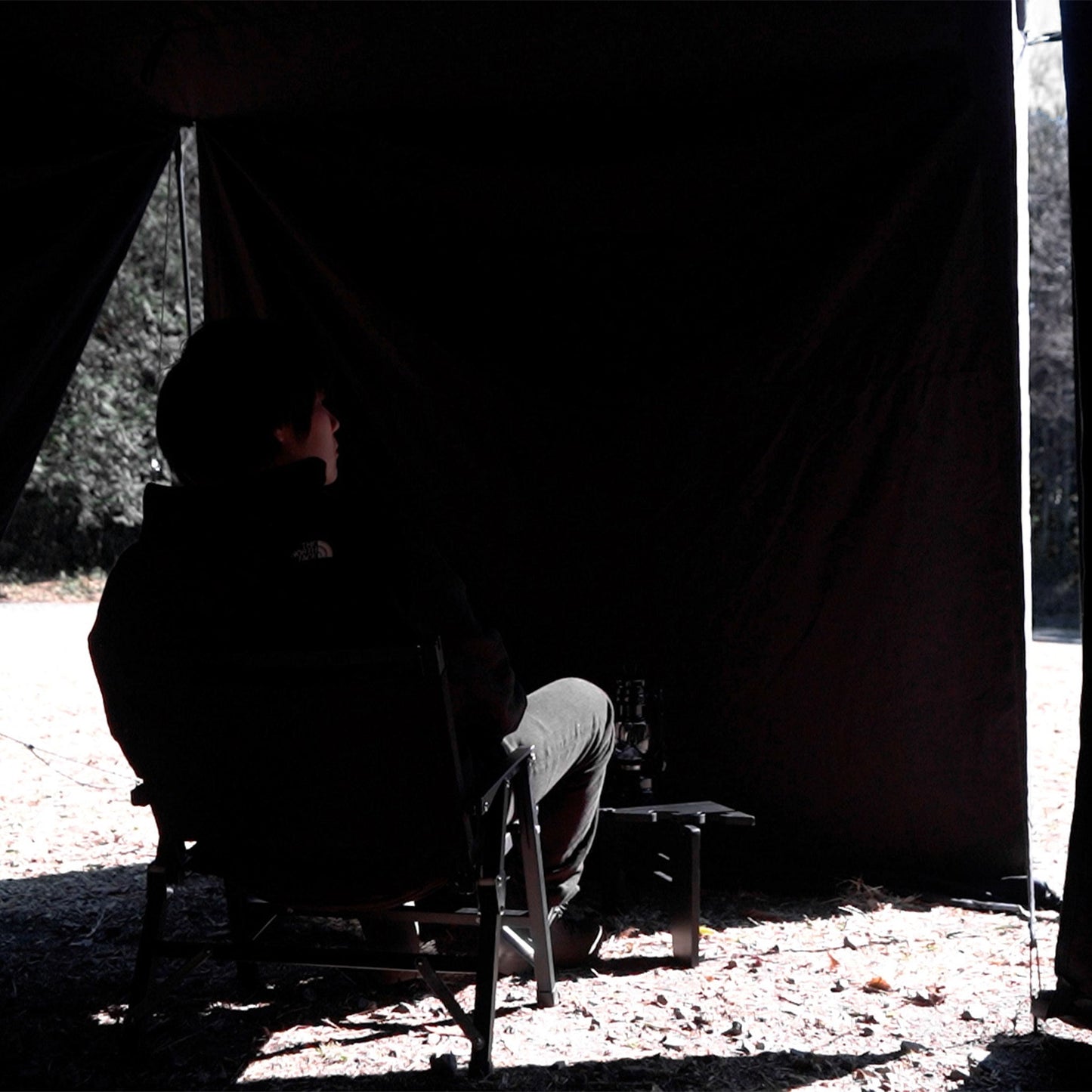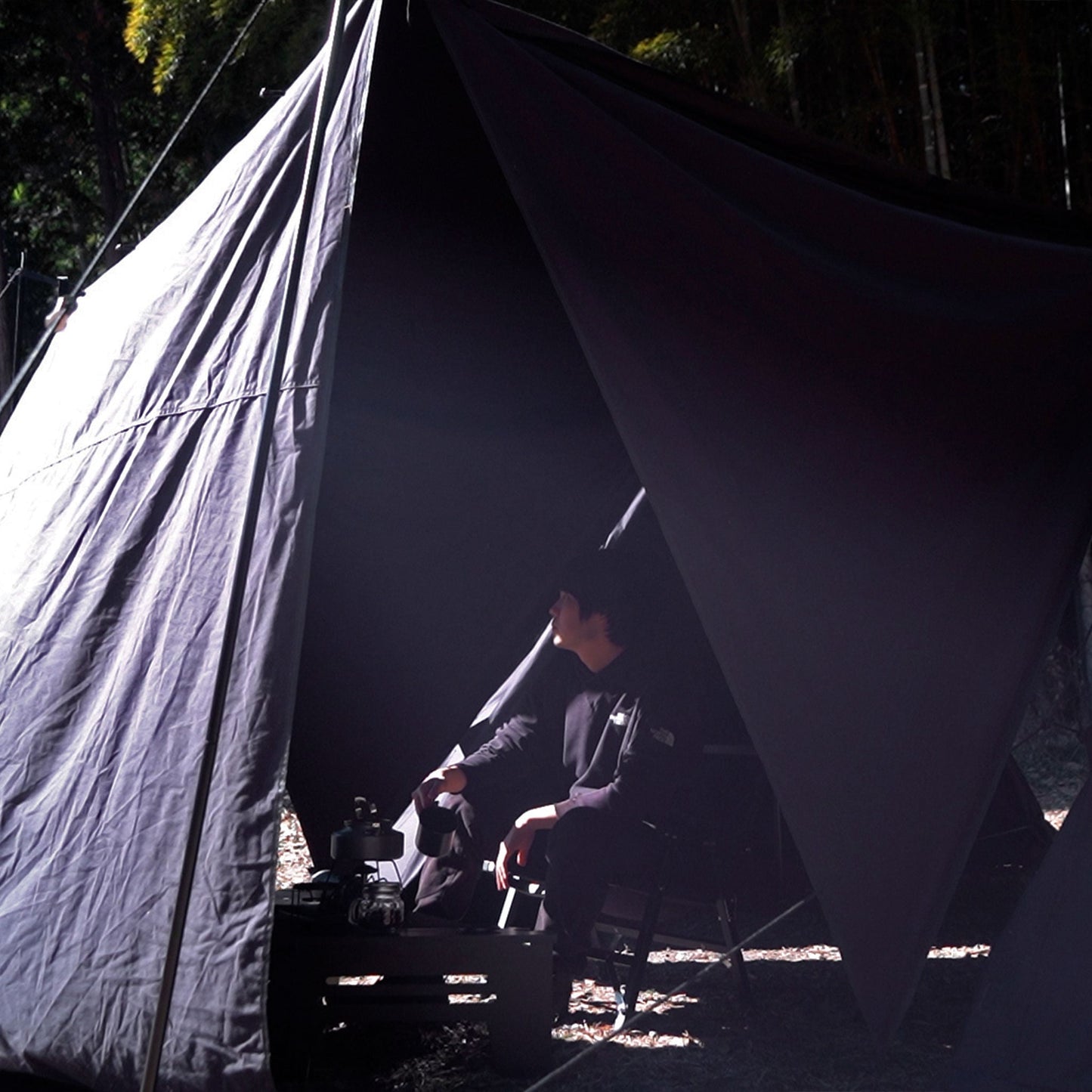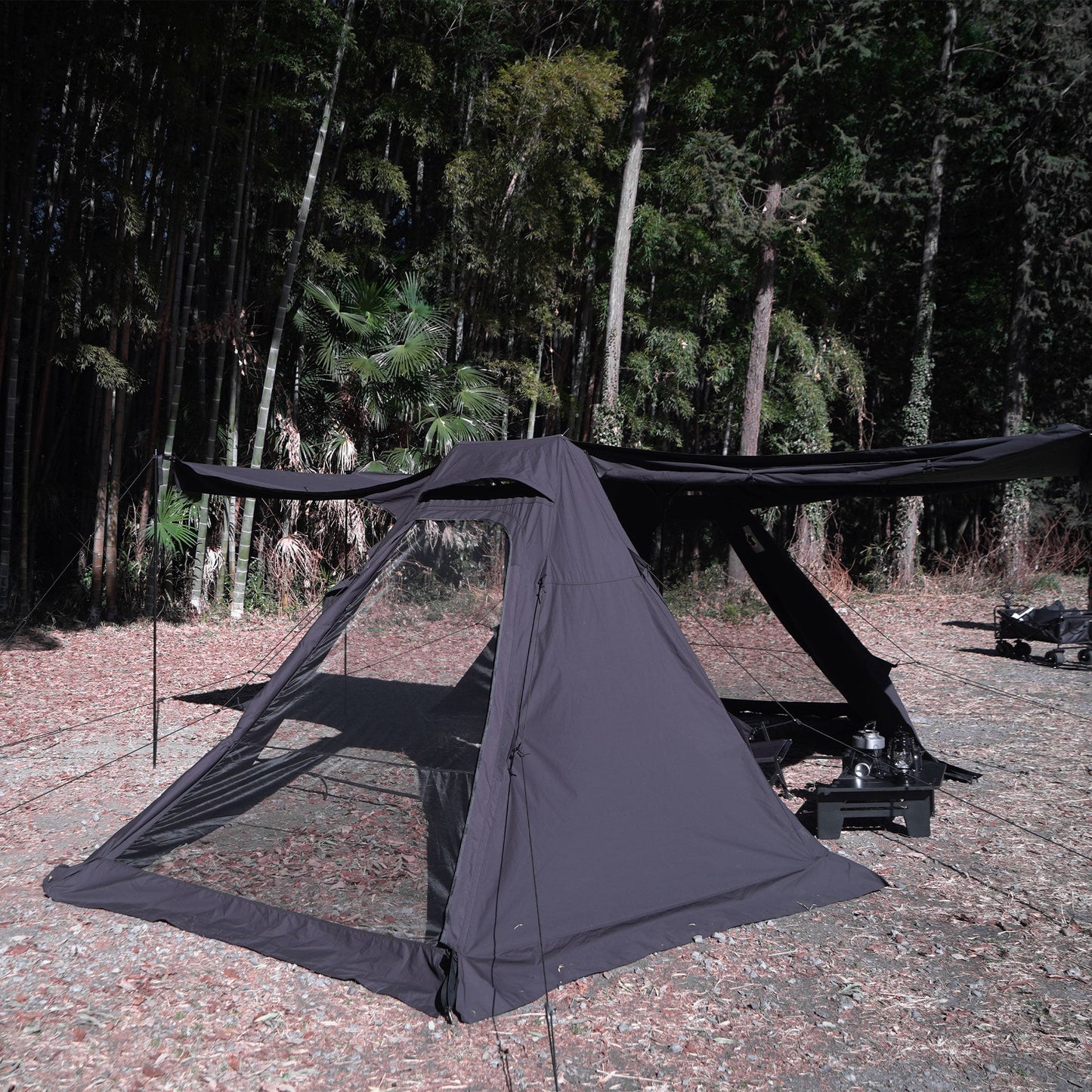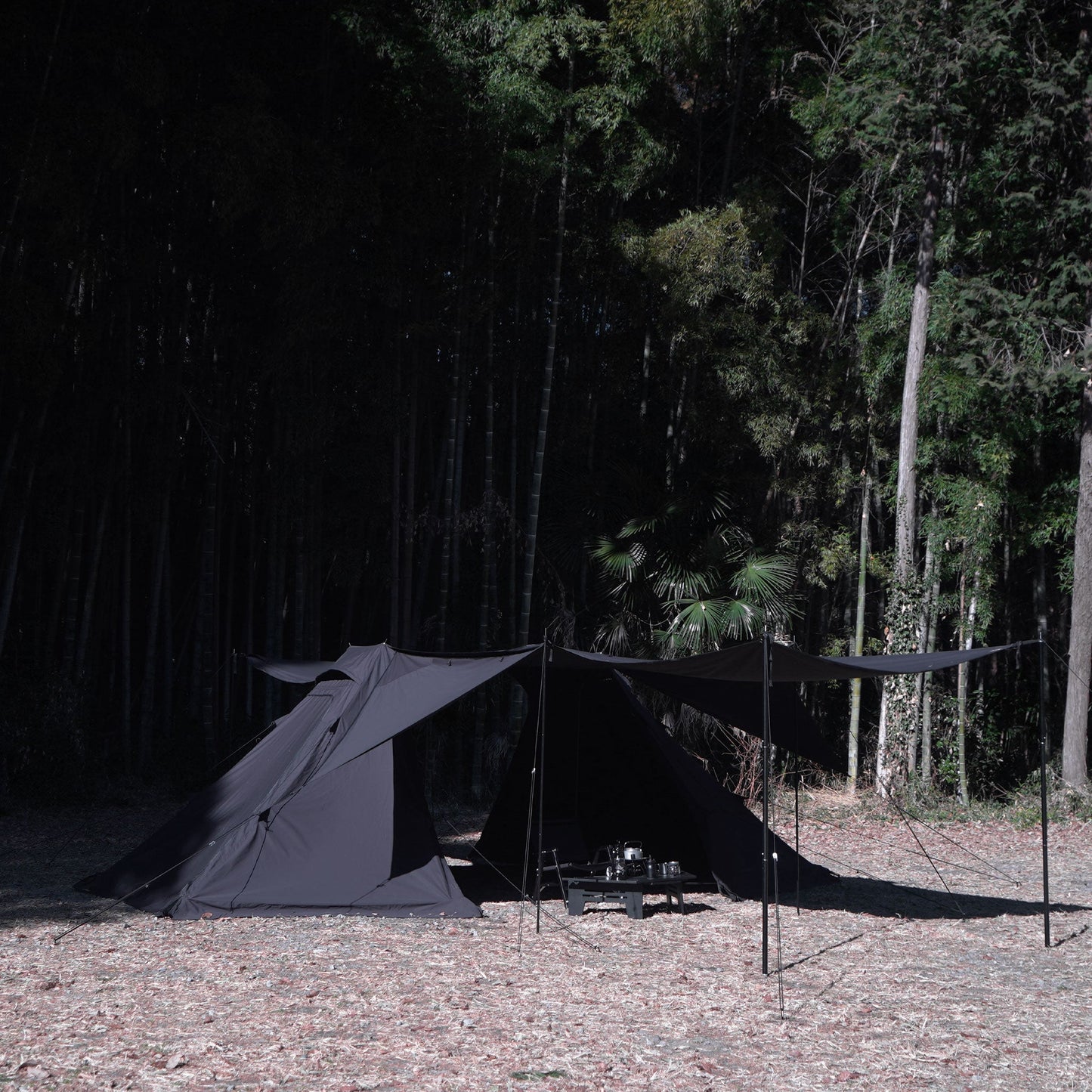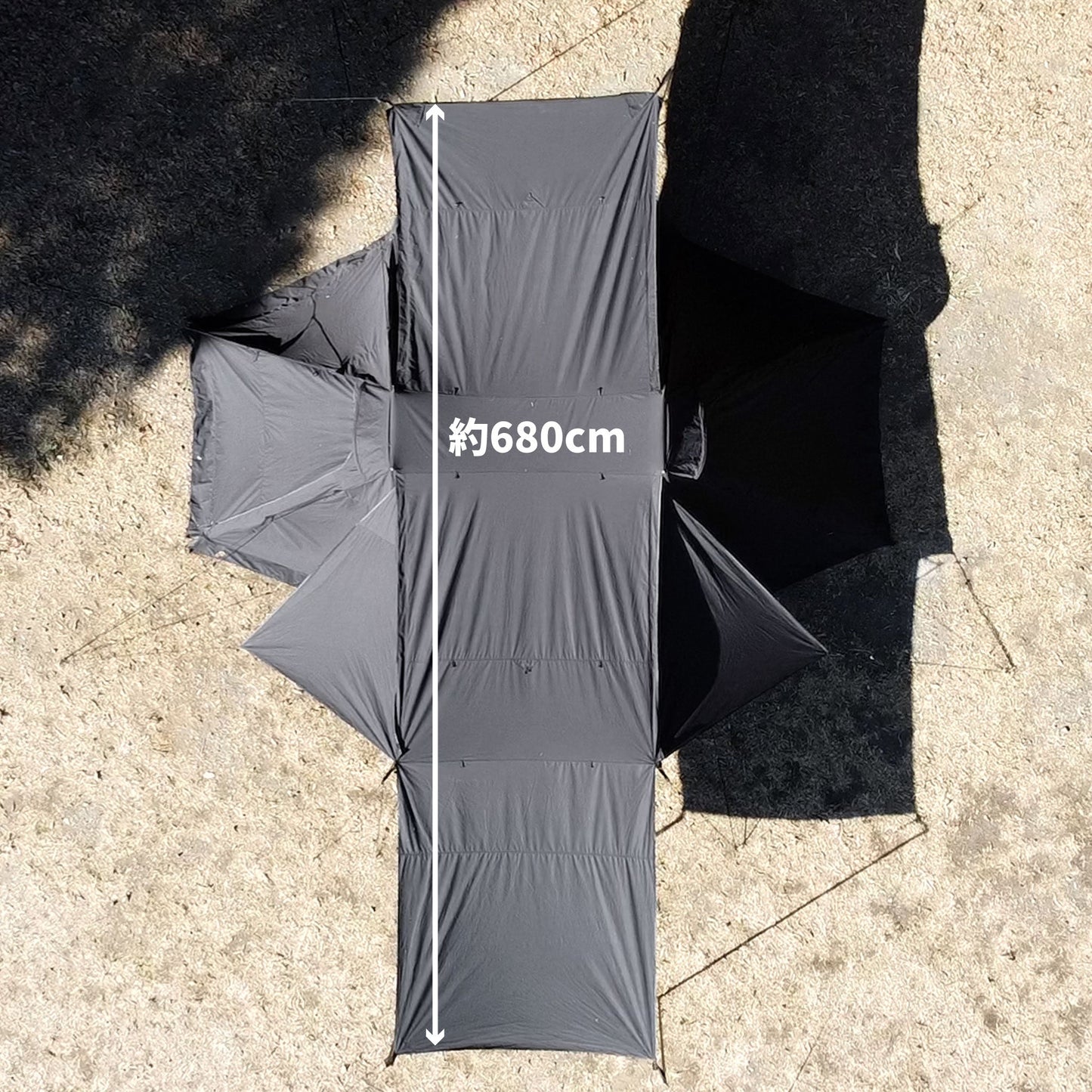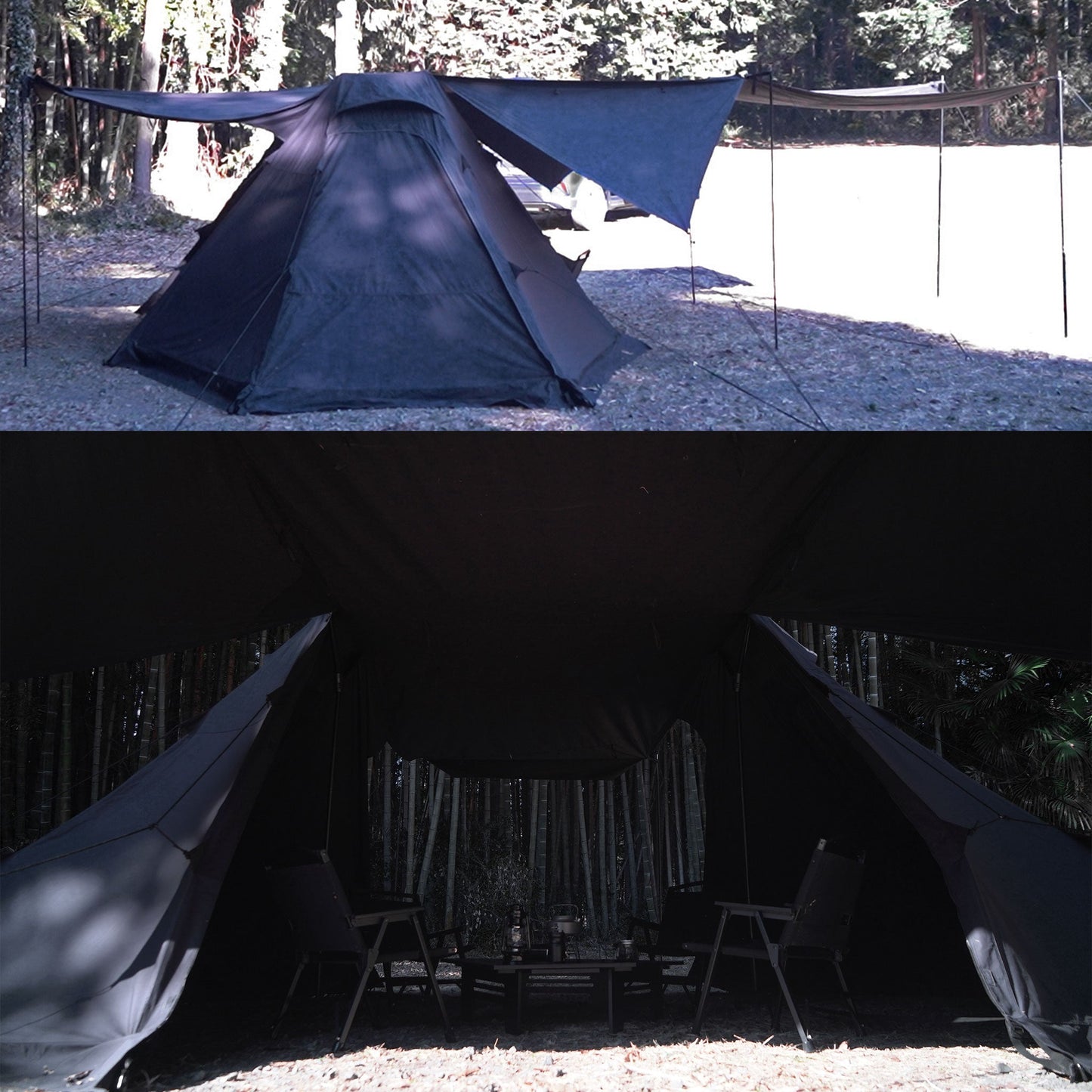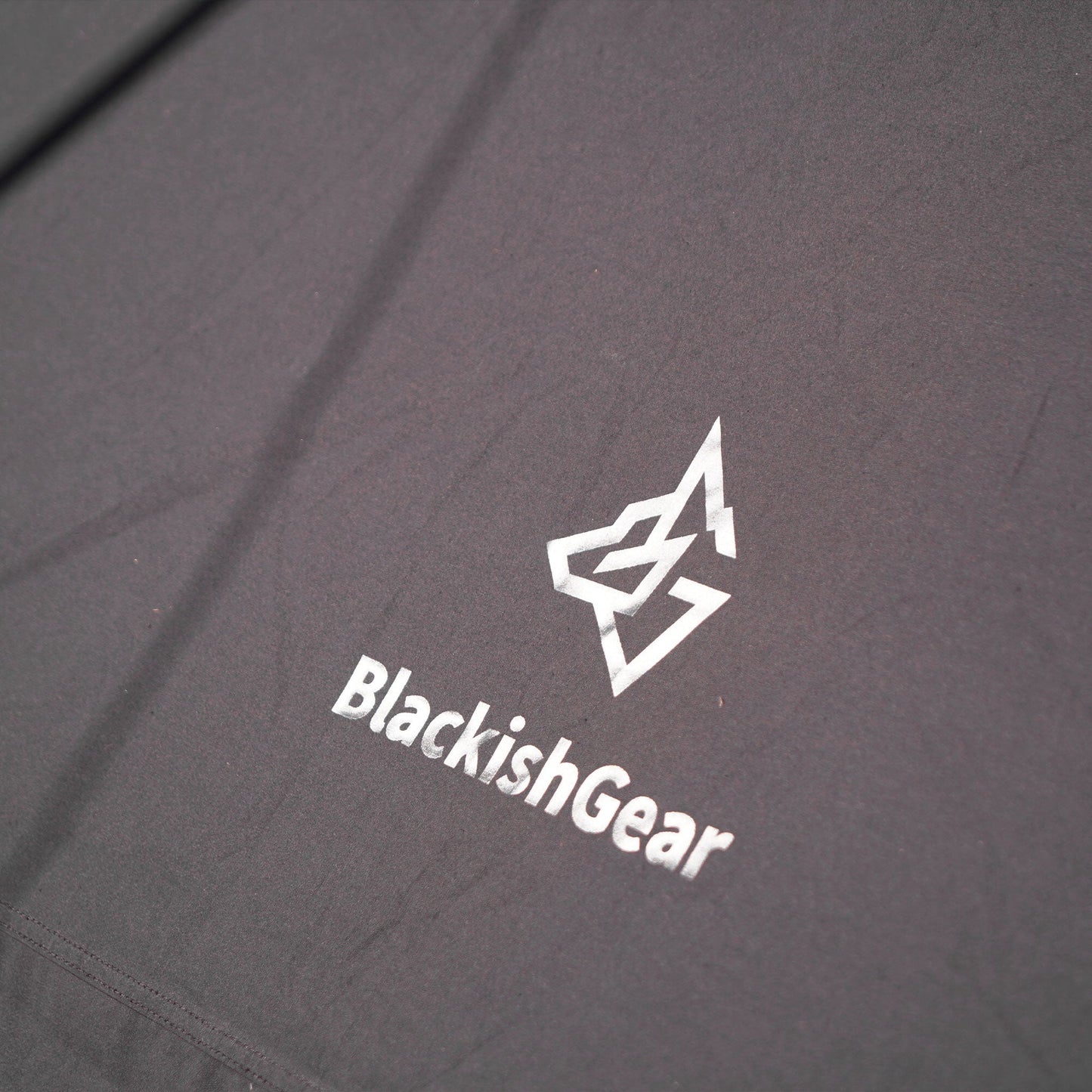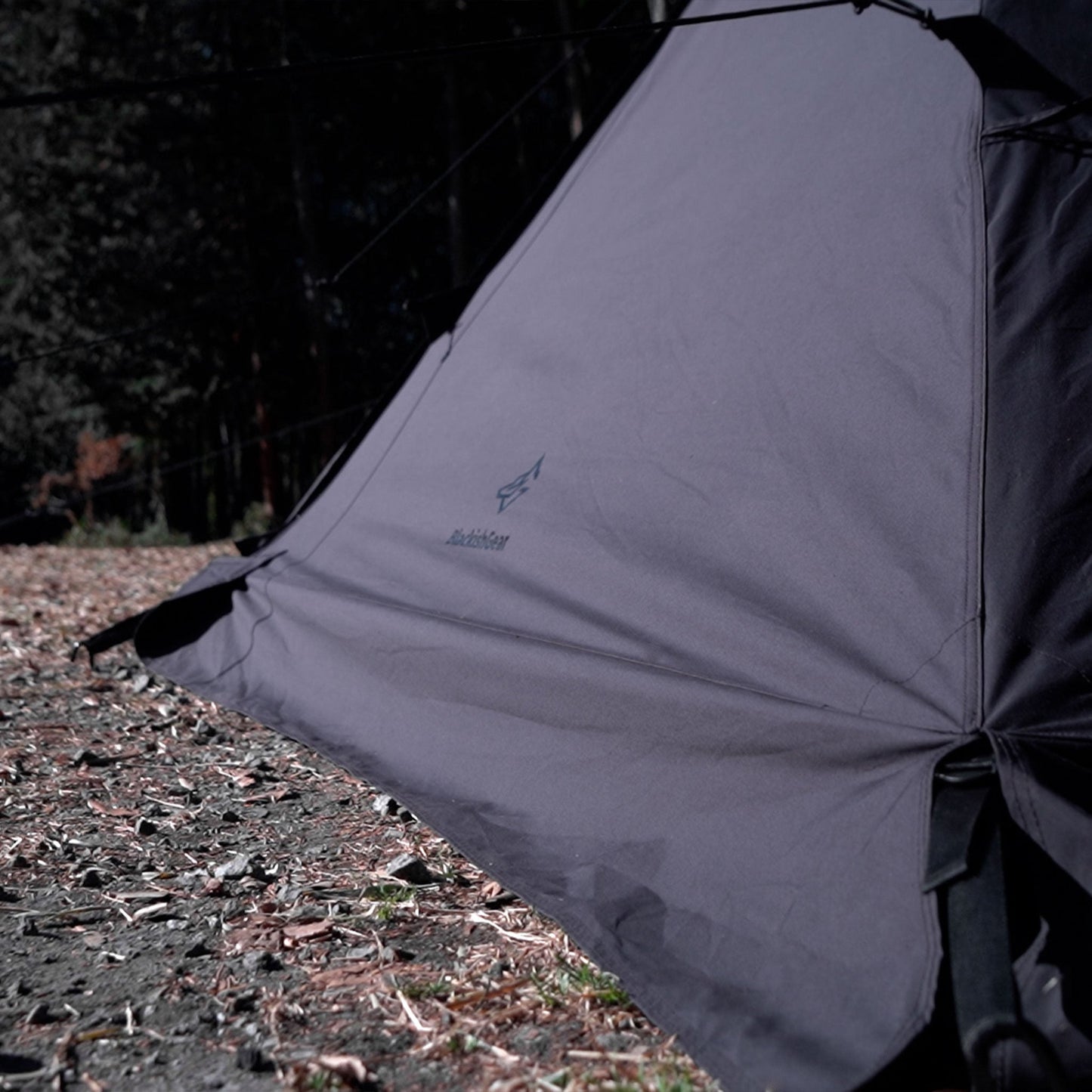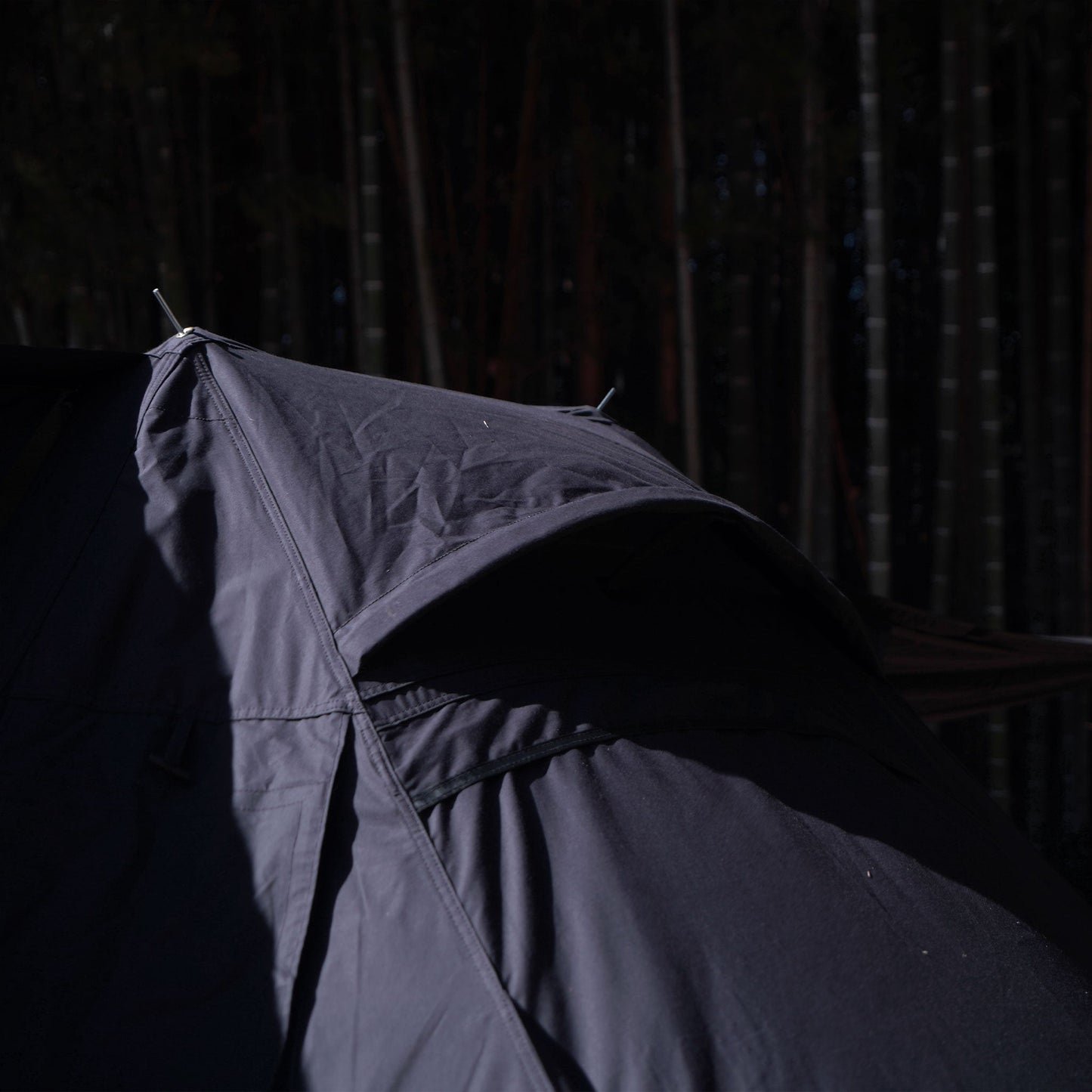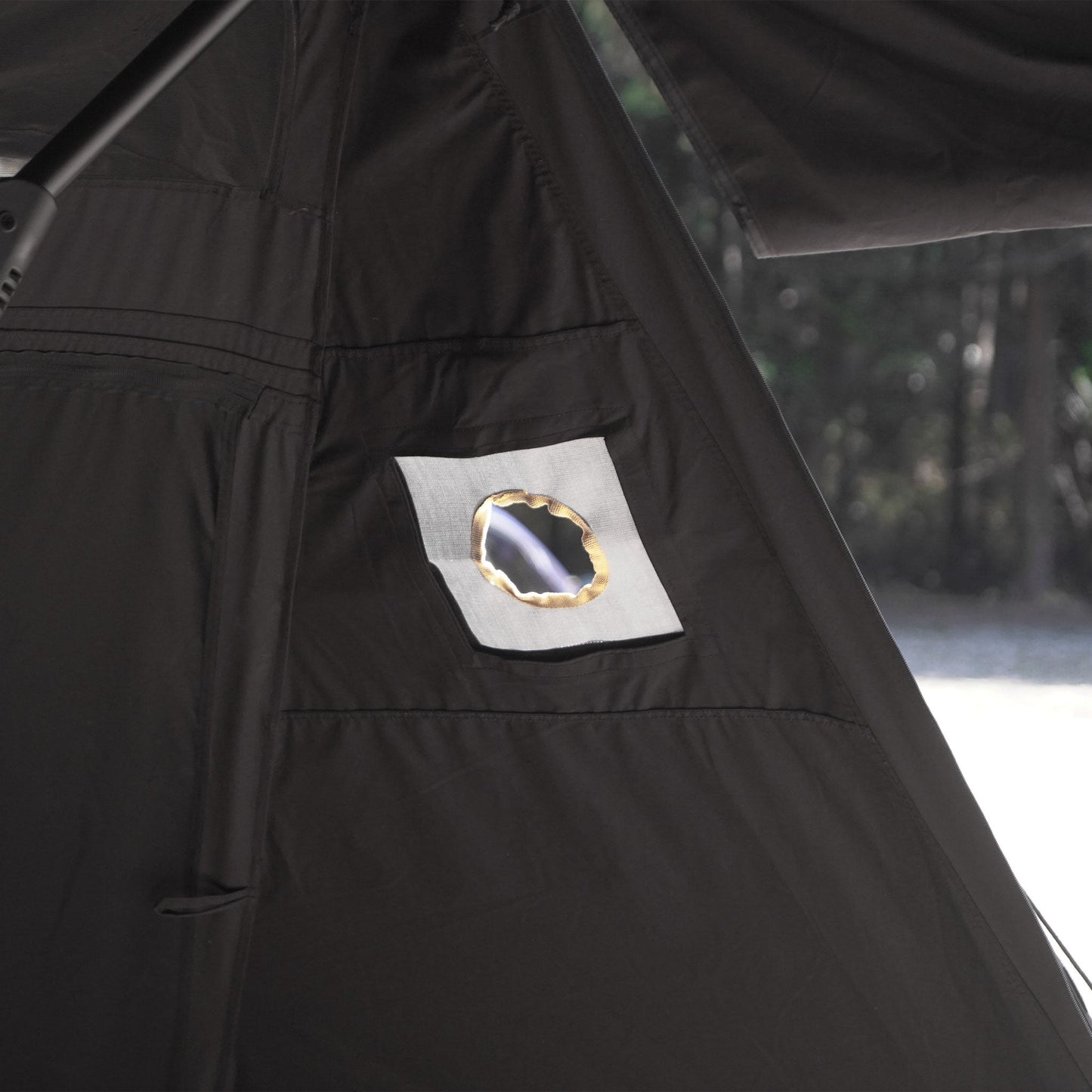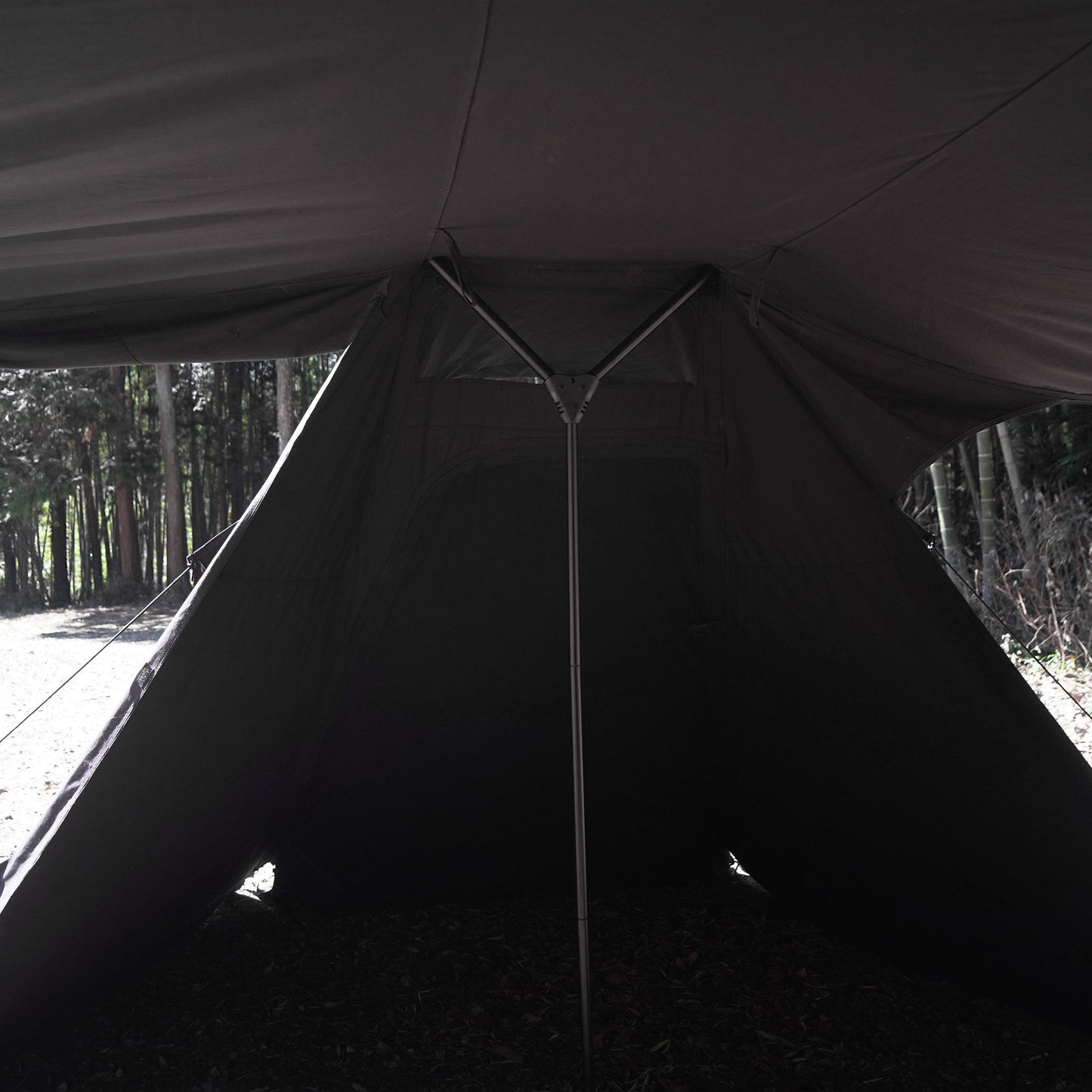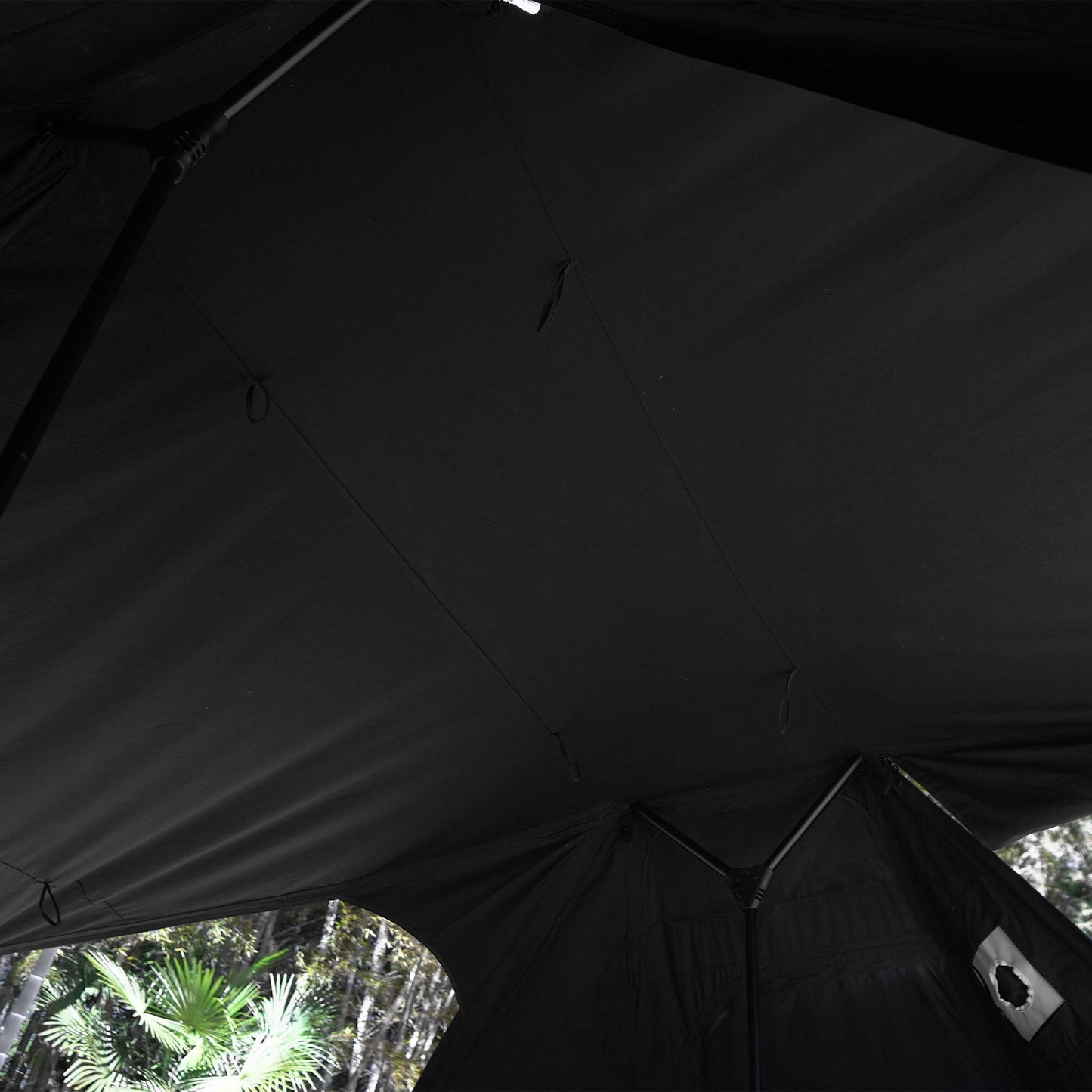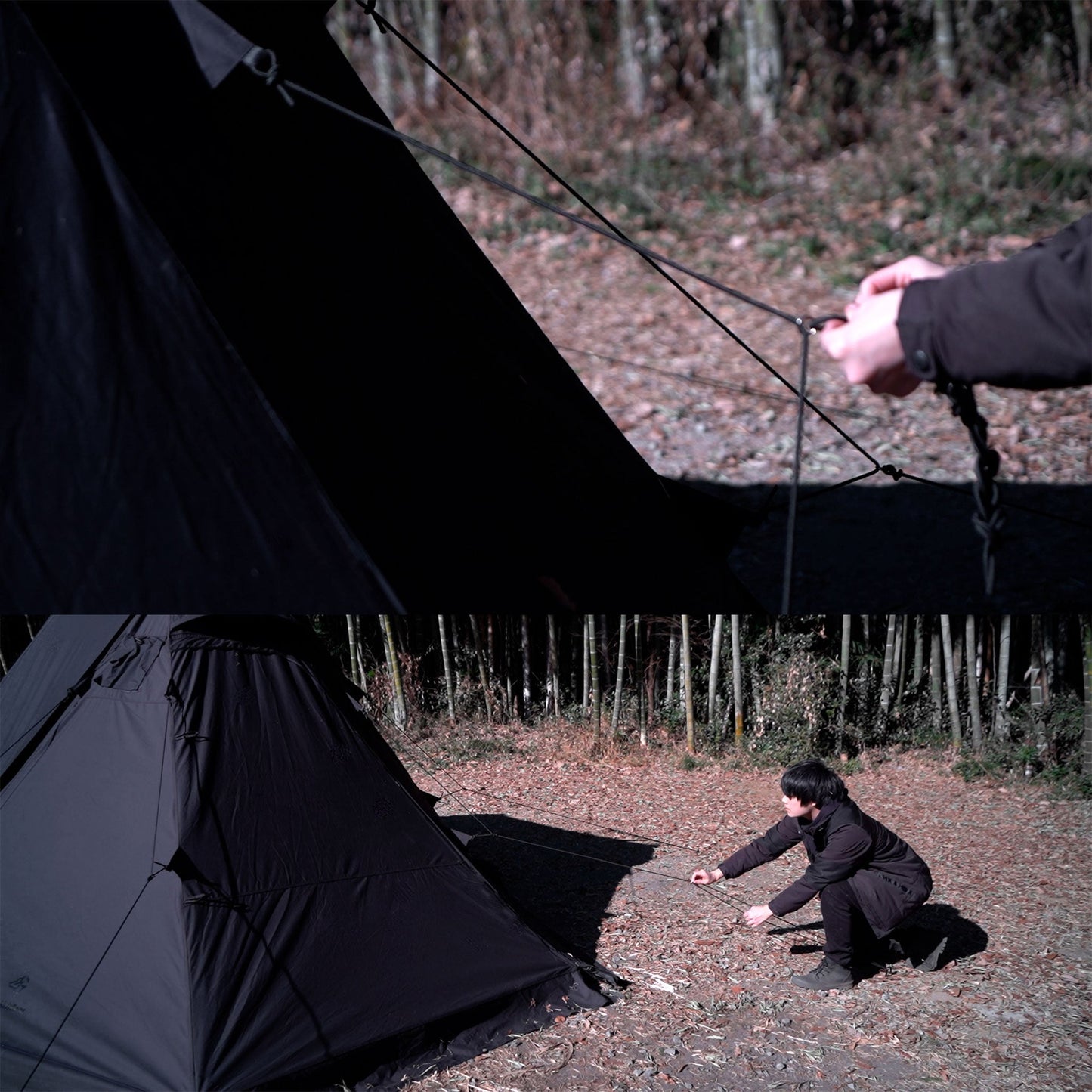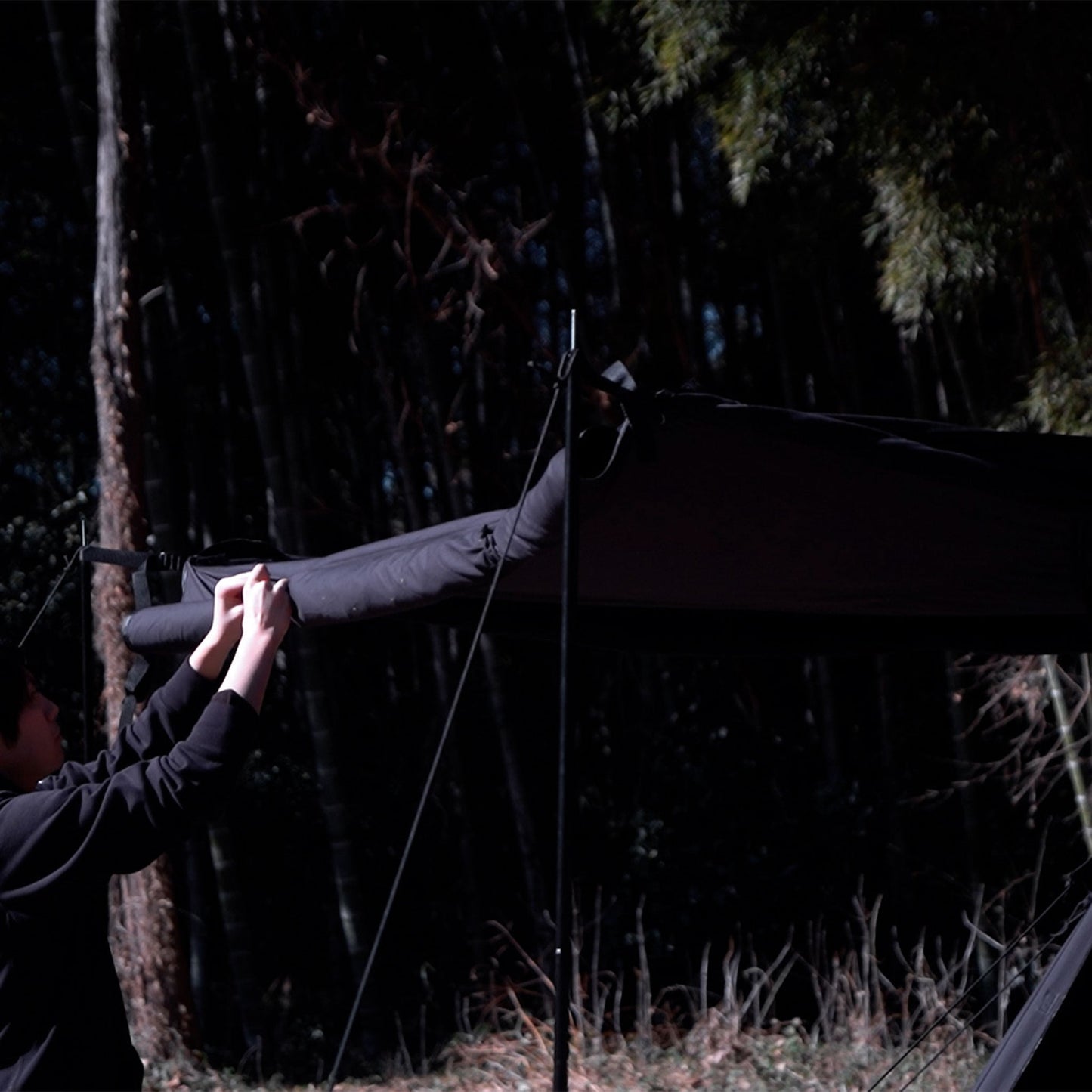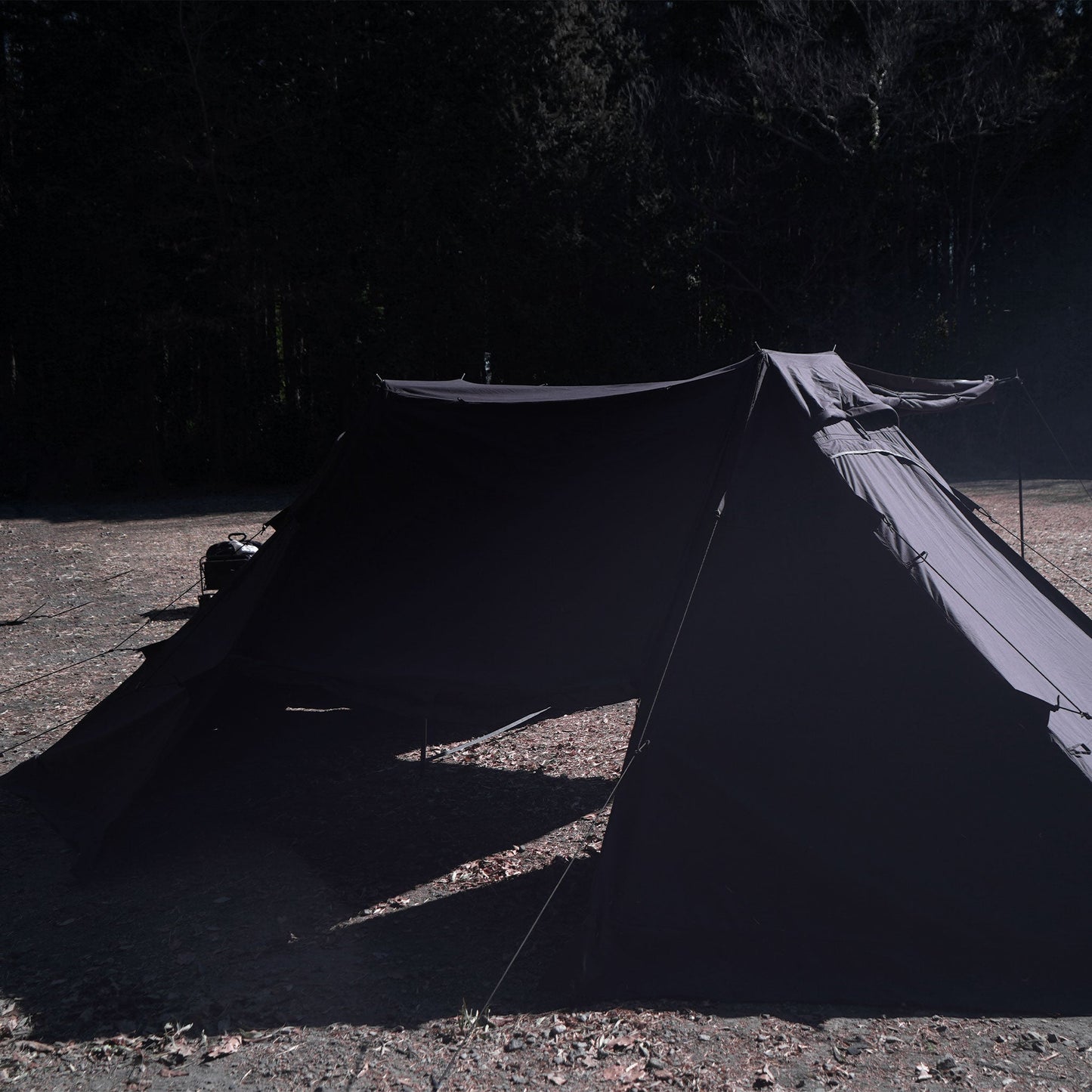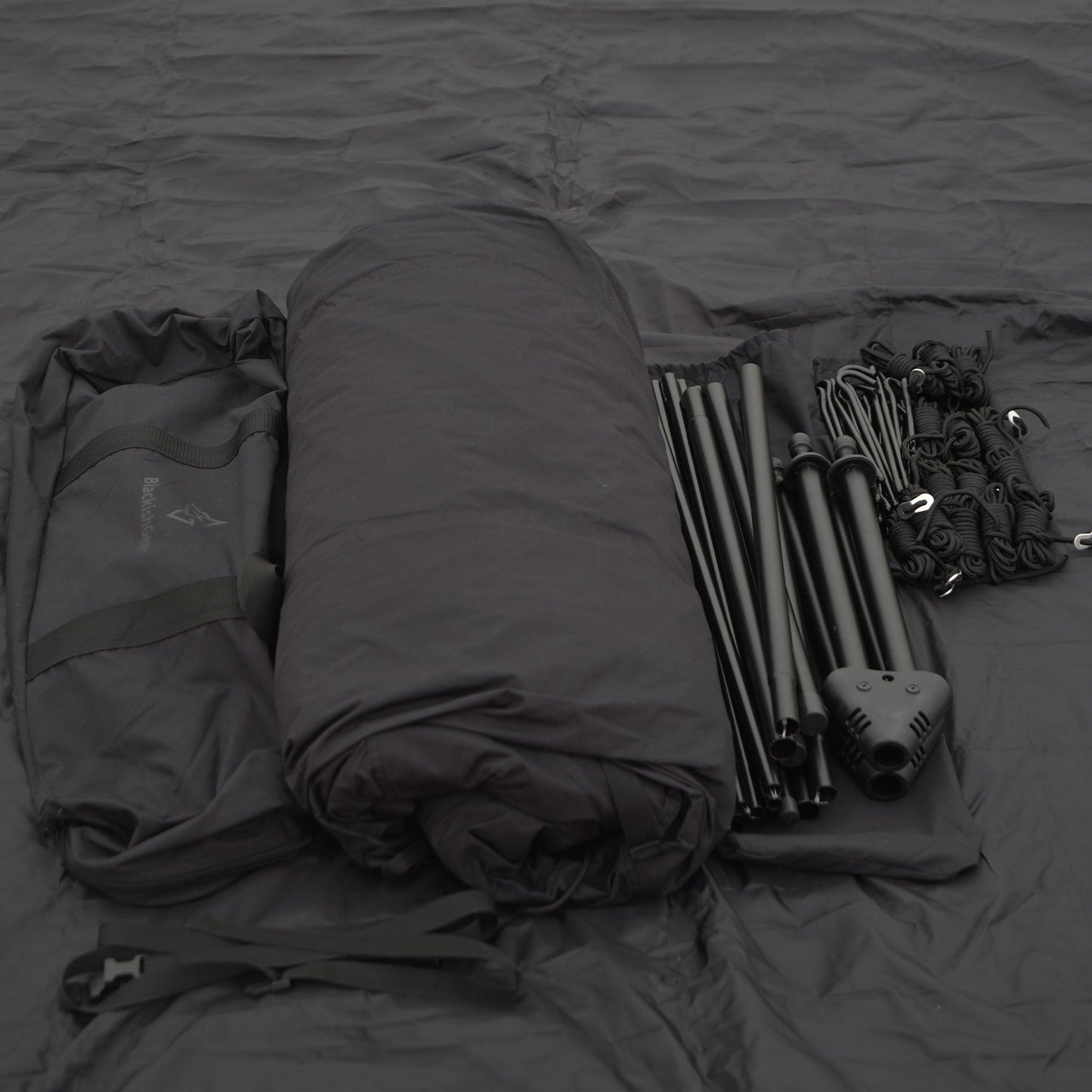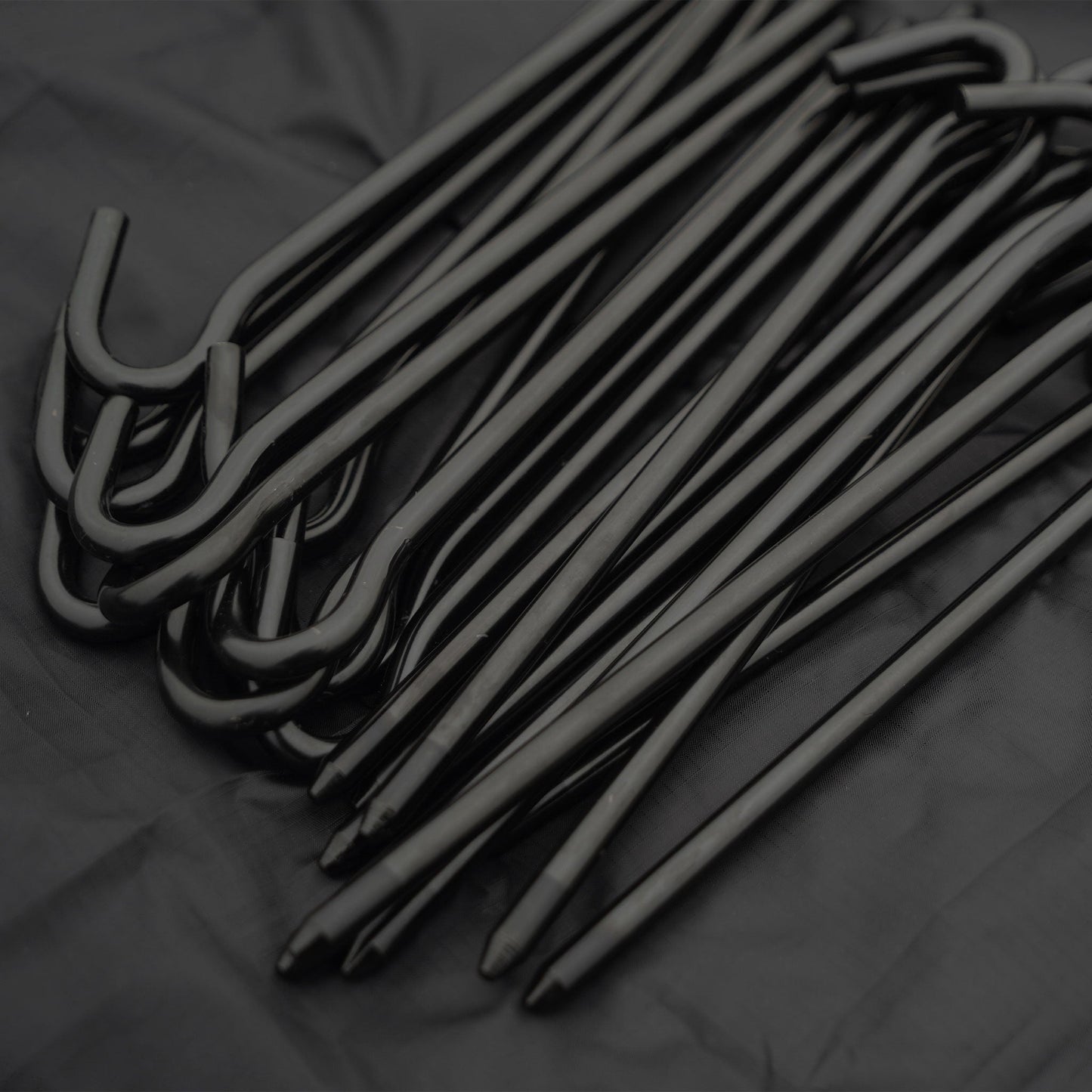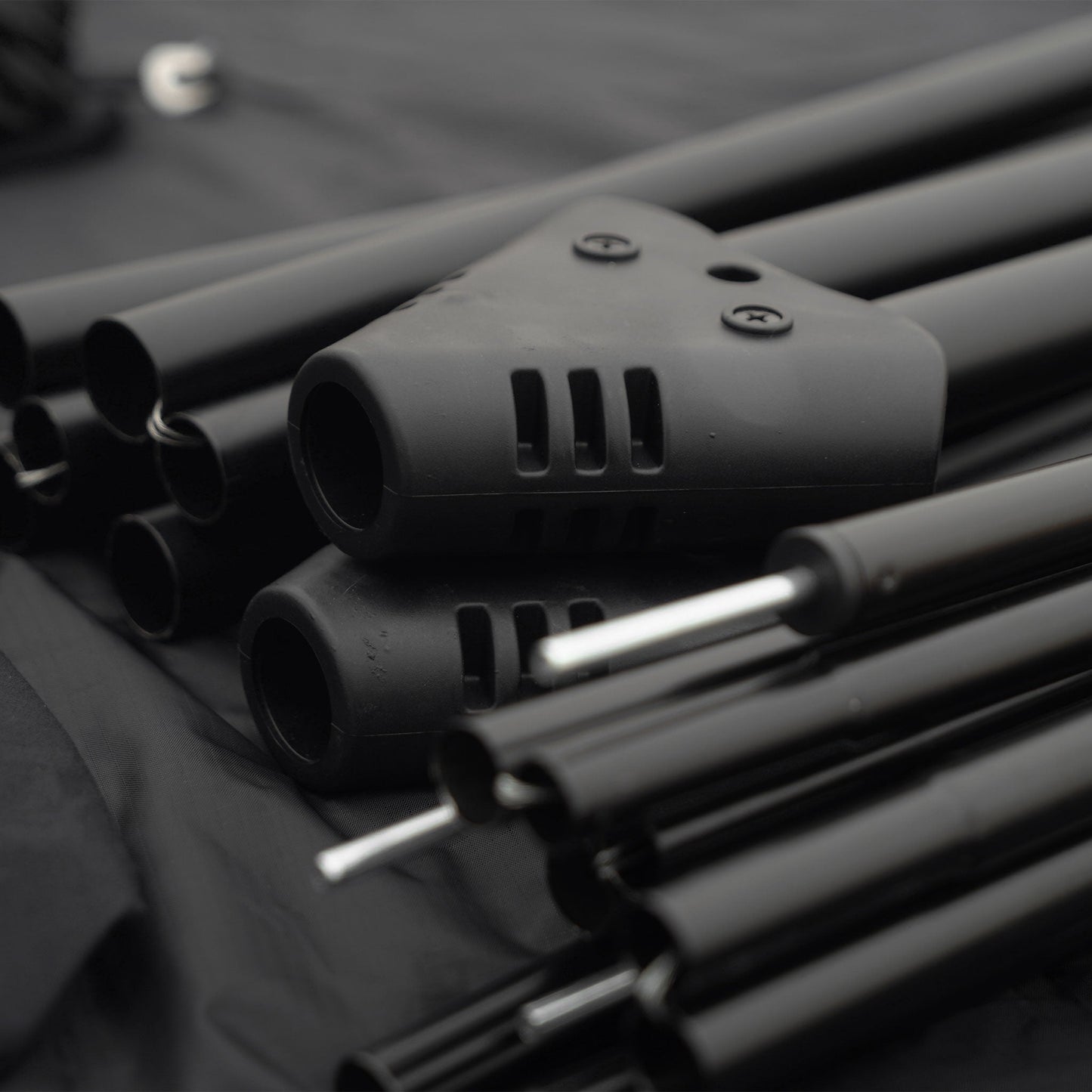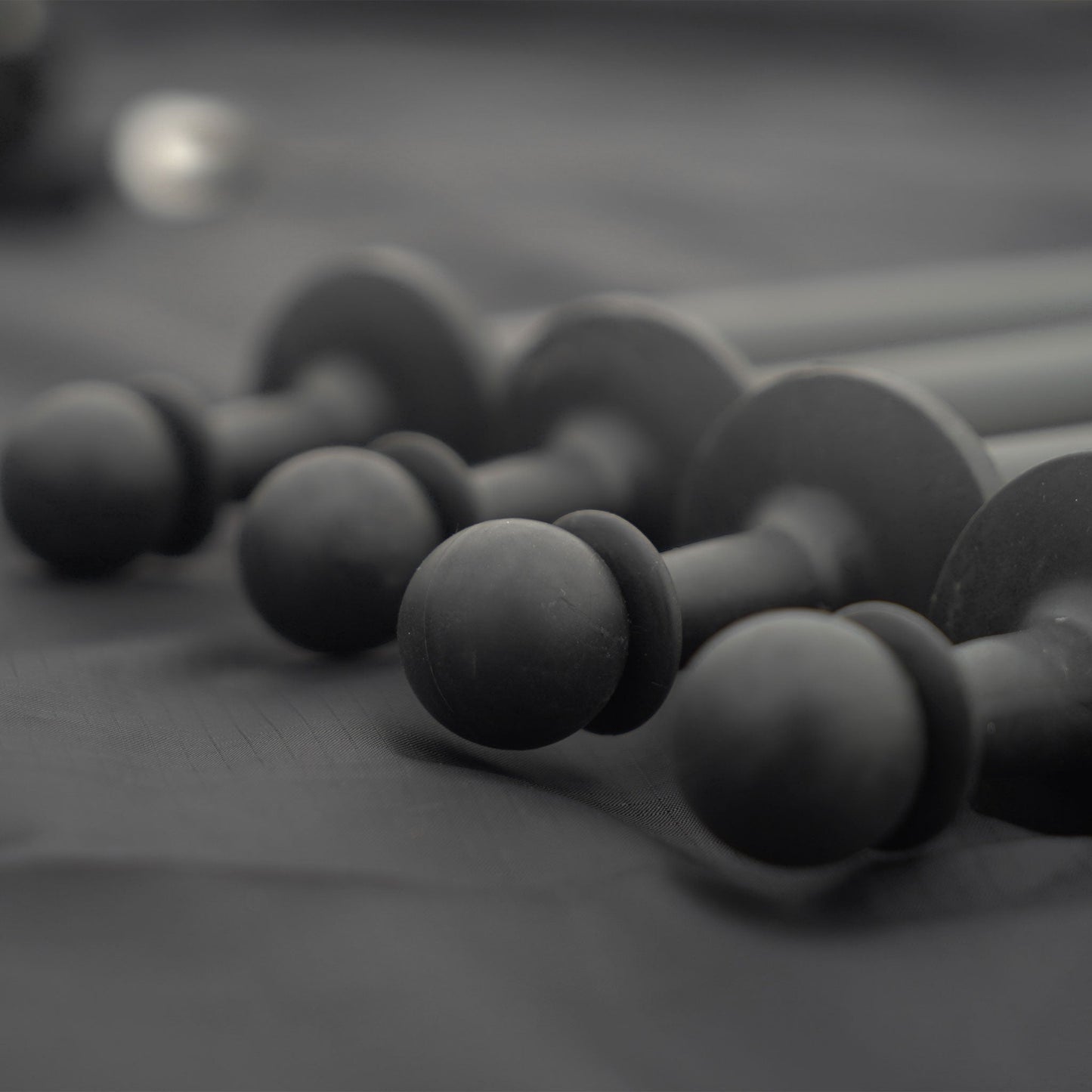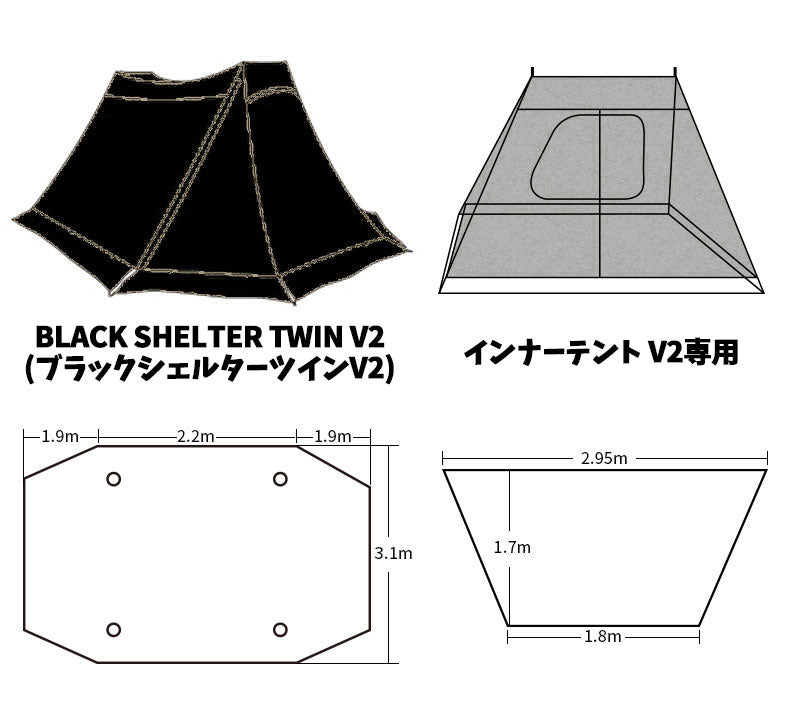 Add LINE official accounts as friends!
BlackishGear's official account provides priority information on pre-orders for new products, as well as information on advantageous coupons and campaigns.
You can also contact us via chat!
Please feel free to add me as a friend.