BLACK ALCOHOL STOVE
Regular price
$22.00 USD
Sale price
$20.00 USD
Unit price
per
Sale
Sold out
Free shipping within Japan (excluding some areas)
Currently ships in 1-2 business days (not shipped on Sundays and holidays)
*There may be peeling at the joint part or the contact part of the lid. Fire also causes the paint to flake off.
残りわずか8個 ご注文はお早めに
About paid warranty service "proteger"

■ If a defect occurs, it can be replaced free of charge.
If you purchase the paid warranty service "proteger" when purchasing the target product of BlackishGear, you can receive a maximum of 2 years warranty.

Manufacturer's warranty (initial failure) 30 days + paid warranty service "proteger" 1 year or 2 years

After subscribing to the paid warranty service, if a defect occurs in the target product during the warranty period, we will replace it with a replacement product free of charge.
*If a replacement product cannot be prepared, a refund will be provided.

Click here for paid warranty application conditions
Click here for the paid warranty service "proteger"
* Paid warranty service "proteger" is a service provided by Kiva Co., Ltd.

■You can subscribe simply by adding the product and warranty plan to your cart and purchasing them together <br/>It is easy to subscribe to the paid warranty service "proteger".
Select "1 year warranty" or "2 year warranty" displayed at the top of the purchase button on the product page, add it to the cart together with the product, and purchase to complete the subscription.

*Warranty selection items are not displayed for products that are not covered by the paid warranty service.

When you purchase a paid warranty service, you will receive an email from proteger with a "warranty number".
Please keep the "Guarantee Number" in a safe place as it will be required when receiving the warranty.

■You can easily apply for a warranty via chat <br/>If you want to receive a warranty, you can apply for it 24 hours a day through the exclusive chat of the paid warranty service "proteger".

Click here for warranty claim

*From here on, it will be the interaction between the customer and Kiva. BlackishGear cannot process warranty claims, so please be sure to use the dedicated chat above.
About payment and delivery

[About payment and delivery]

BlackishGear's online store accepts the following payment methods:

·credit card

You can use four types: VISA, MasterCard, American Express, and JCB.
We also support Google Pay and Apple Pay.

・PayPal

If you have a PayPal account, you can pay through PayPal.

・Amazon Pay
You can pay with the credit card registered in your Amazon account or the Amazon gift card balance.

・Deferred payment (Payday)

You can easily make payments with just your email address and mobile phone number, no credit card required.
Multiple payments can be combined and paid on the 10th of the following month.
If you wish to pay by bank transfer or convenience store payment, please use " pay later" .

・LINE Pay
You can pay with the smartphone payment app LINE Pay.

・PayPay
You can pay with the smartphone payment app PayPay.

・Merpay You can pay with the smartphone payment Merpay that can be used with the Mercari app.

*This site does not currently support payment in installments.
If you wish to pay in installments, please contact your credit card company after making a lump sum payment by credit card.

·Shipping method

Shipping fee is free shipping within Japan. (Excluding Okinawa and overseas)

In the case of shipping to Okinawa and overseas, the shipping fee varies depending on the product, so please check the shipping fee at checkout.
*Prices are subject to change due to the circumstances of the delivery company.

If the product is in stock, it will be sent within 1 to 4 days after confirming payment for the product (excluding Okinawa, remote islands, and overseas).

In the case of pre-order items, we will ship them after the item arrives. Please refer to each product detail page for estimated shipping times.

*Please note that if you purchase an in-stock item and a reserved item together, it will be shipped as soon as all the items are available. If you would like to have the items in stock shipped, please place a separate order.

At the time of shipment, we will send a shipping notification and product tracking number to your email address, so you can check the delivery status.


We will deliver by Sagawa Express or Yamato Transport.

・Re-delivery

After the product has been shipped, if it is not possible to receive it and the delivery company's storage period has passed, the product will be returned to the warehouse.
The storage period is one week including the first delivery date.

Please contact us if you would like to have the item redelivered after it has been returned.
*Please note that the customer will be responsible for the shipping fee for redelivery.
About returns and exchanges

[About cancellations, returns, and exchanges]

1.Returns or exchanges can only be made within 30 days after the arrival of the product if the delivered product is defective or if the product received is different from the ordered product.
(Our shop will bear the shipping costs for returns and exchanges.)
*Please note that we may not be able to respond depending on the content.



2. Cancellation during the pre-sale period will be subject to a cancellation fee of 10% of the total product price.

3. In principle, we cannot accept cancellations, returns, or exchanges for the following items.


・If more than 31 days have passed since the product arrived

・When purchasing outlet products

・In the case of defective accessories only

・When it is suspected that the product has been scratched or soiled by the customer

・If the product is used or has no packaging or accessories

・In addition, if you wish to cancel, return, or exchange for your convenience



4. If you join the paid warranty service "proteger", you can receive a maximum of 1 to 2 years warranty.
If a defective product occurs during the warranty period, we will replace it with a replacement free of charge.
Learn more about paid warranty service here .



*Please be careful before purchasing.



[About refund]

1. Refunds will be made according to the payment method within 5 business days after the returned item arrives.

2. The refund method will be specified by our store and cannot be selected by the customer.

*Refund processing will be completed within 5 business days after contacting us, but the refund time will differ depending on the payment method. If you would like to know more about the timing of refunds, please contact the company that uses your payment method.



Blackish Gear
BLACK ALCOHOL STOVE
Japan's first.
A black alcohol stove for black camping gear lovers.
I want to make a black alcohol stove.
Just that.
It's been about half a year since I thought so...
Find more than 10 factories,
When I consulted about materials and processing methods, I was refused, refused, refused...

Commitment to black finally realized.

Although there are still some points that cannot be reached,
I want to deliver to black camping gear lovers.
Above all, I want to use myself.

Japan's first black alcohol stove
I just made it with that thought in mind.

Realized black by alumite processing.
Alumite processing to coat with a thick and durable oxide film.
The point is that it can be used for a long time because it is resistant to scratches and dirt.
Designed as a hard-to-use alcohol stove.
But the difficult part is...
The anodized aluminum is not fire resistant, so the paint will peel off after a while.
Furthermore, since it is processed into a complicated shape, peeling can be seen at the joints.
This is the reason why it was difficult to improve and kept being rejected by the factory...
Still, I want people who are deep in their pockets to pick it up.
The weight is the lightest in the industry.
Ultra lightweight with a body weight of 34g.
Taking advantage of the characteristics of aluminum alloy, it is light enough to be used for solo camping and touring camping.
Can burn up to 45 minutes.
Burns up to 45 minutes with a capacity of 80ml.
If you have alcohol for fuel, you can cook camping rice without worrying about fire.
It comes with a lid that can store excess alcohol, but...
You can store excess alcohol by closing the lid, but please do not carry it around as it may leak out if you lay it on its side.
It is not a lid for fire extinguishing, so please be careful not to cover it when extinguishing.
If you have excess alcohol, we recommend burning it to the end.
A canvas storage bag is also included.
The fact that a storage bag made of black canvas fabric is attached is also a point of attention.
Of course it can be used to carry an alcohol stove,
It is slightly larger so that it can be used with other camping gear.
I would like you to use this as well.
Product spec
Contents: Main unit x 1, lid x 1, canvas storage bag x 1
Body size: 70mm x 50mm
Body weight: 34g
Body capacity: 80ml
Burning time: Up to about 45 minutes
Material: Aluminum alloy (anodized)
Country of Origin: China
※Notes※

■Instruction

■Customer's voice from Instagram
■ Media publication
Heavy Smokerz Forest review video showing all of the black alcohol stoves.

Light up your playfulness! A review article was posted on "YAMAICO", a media specializing in mountaineering, camping, and OUTDOOR!
Read article →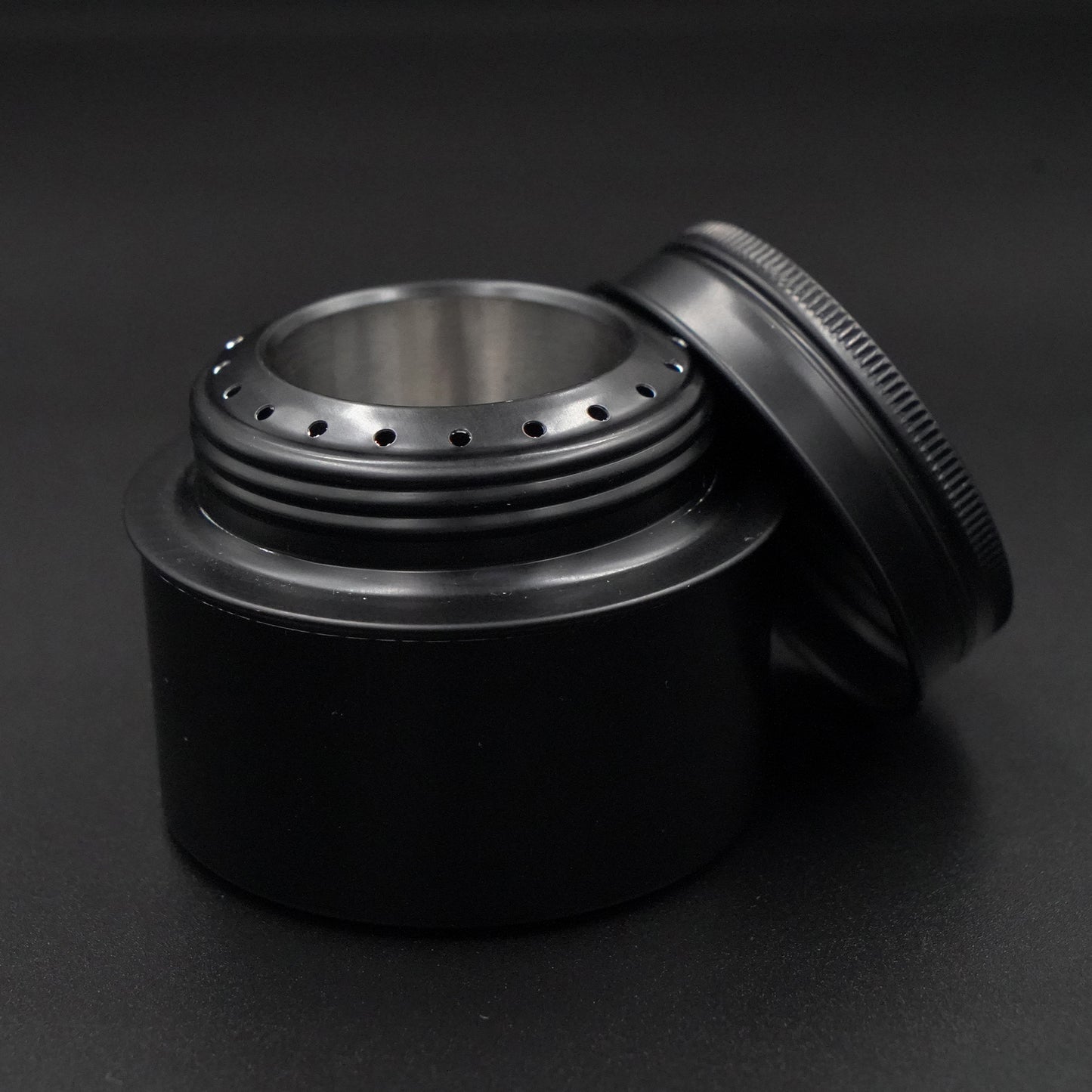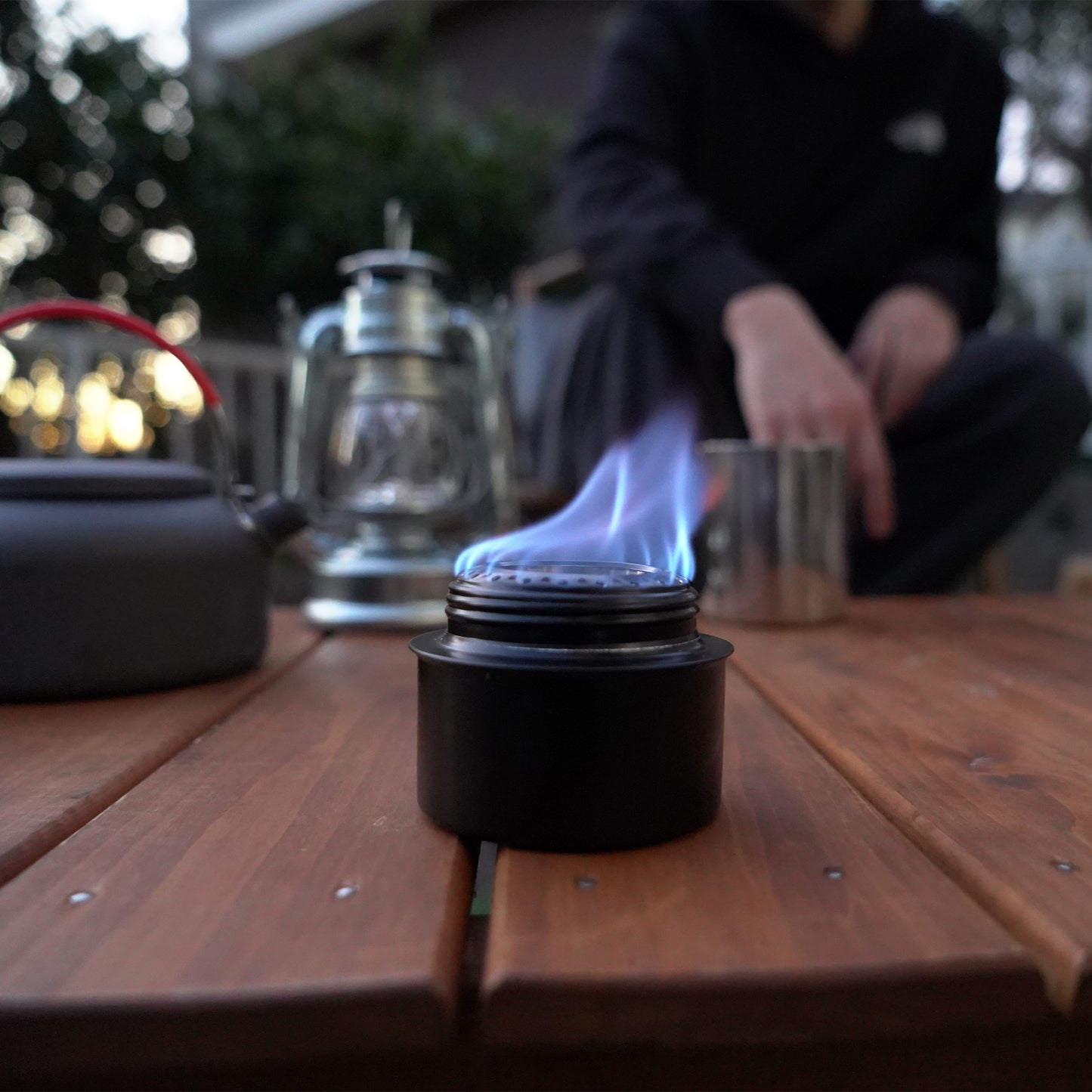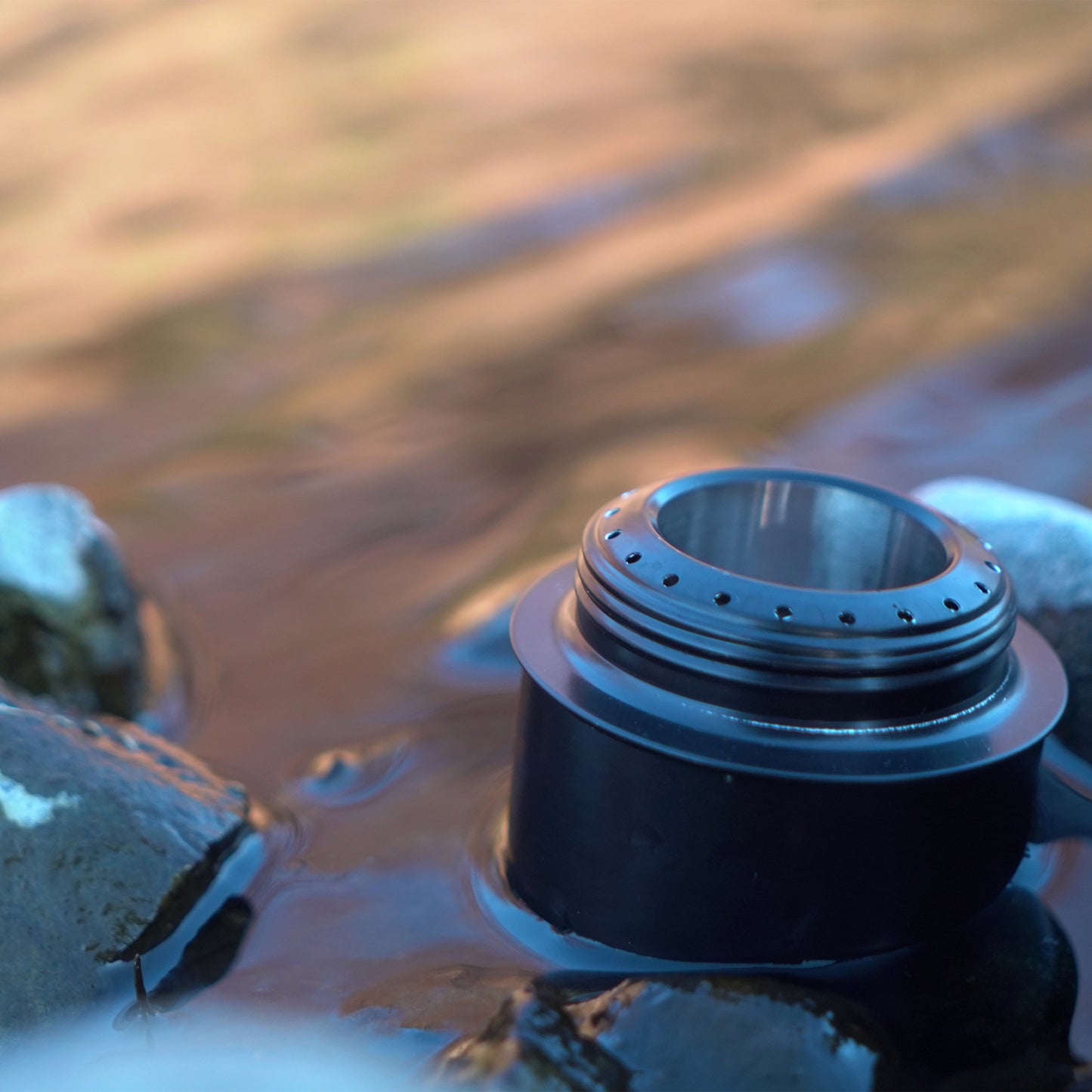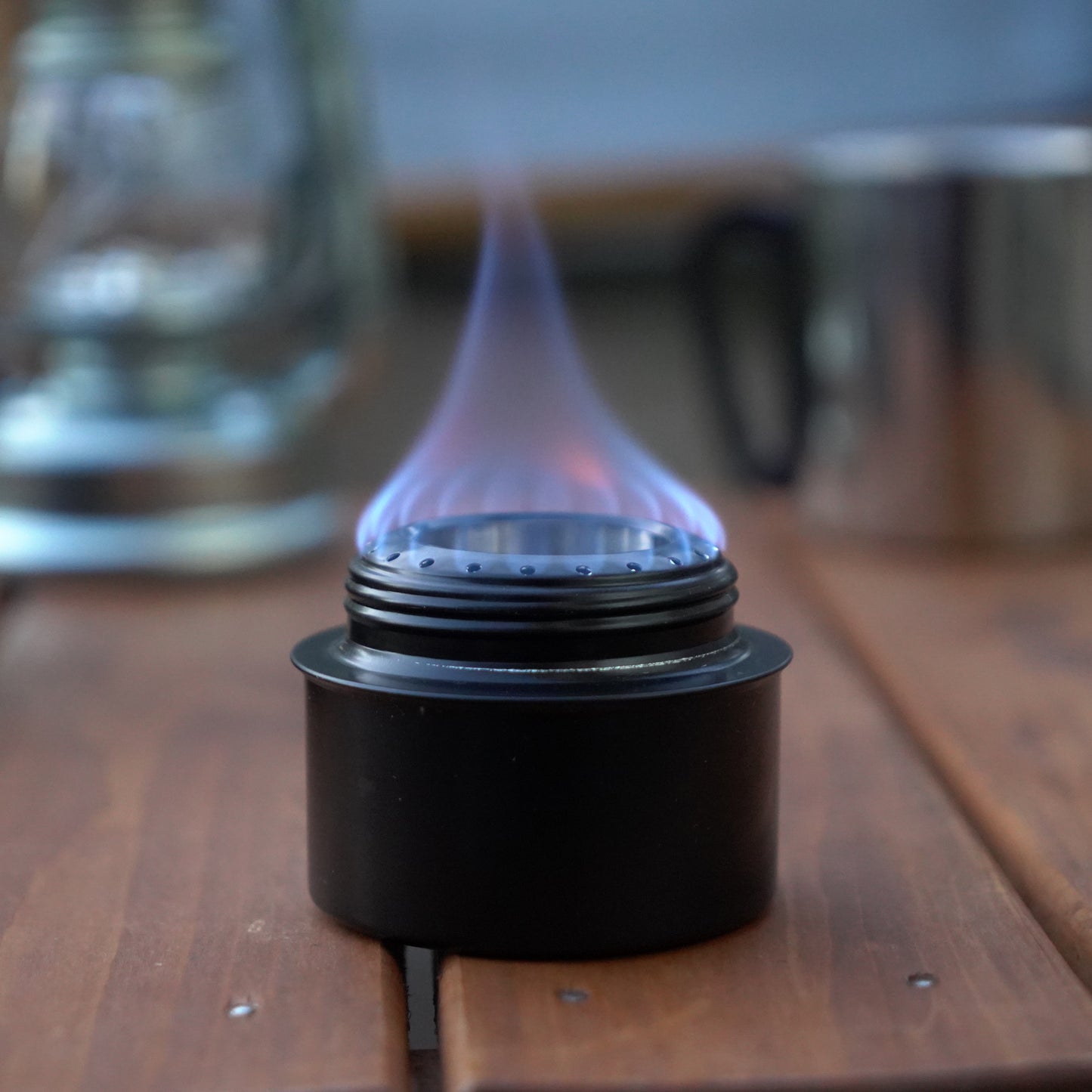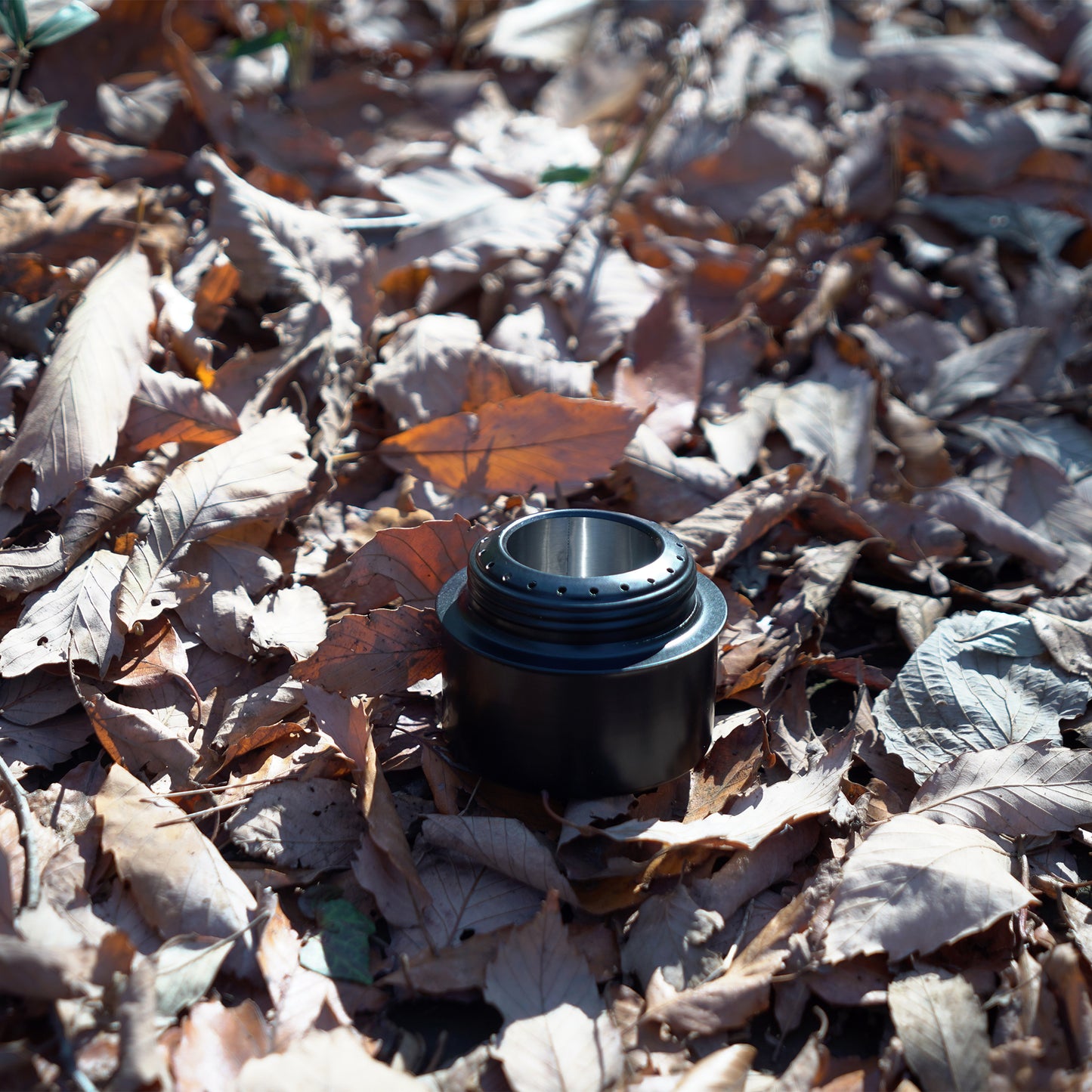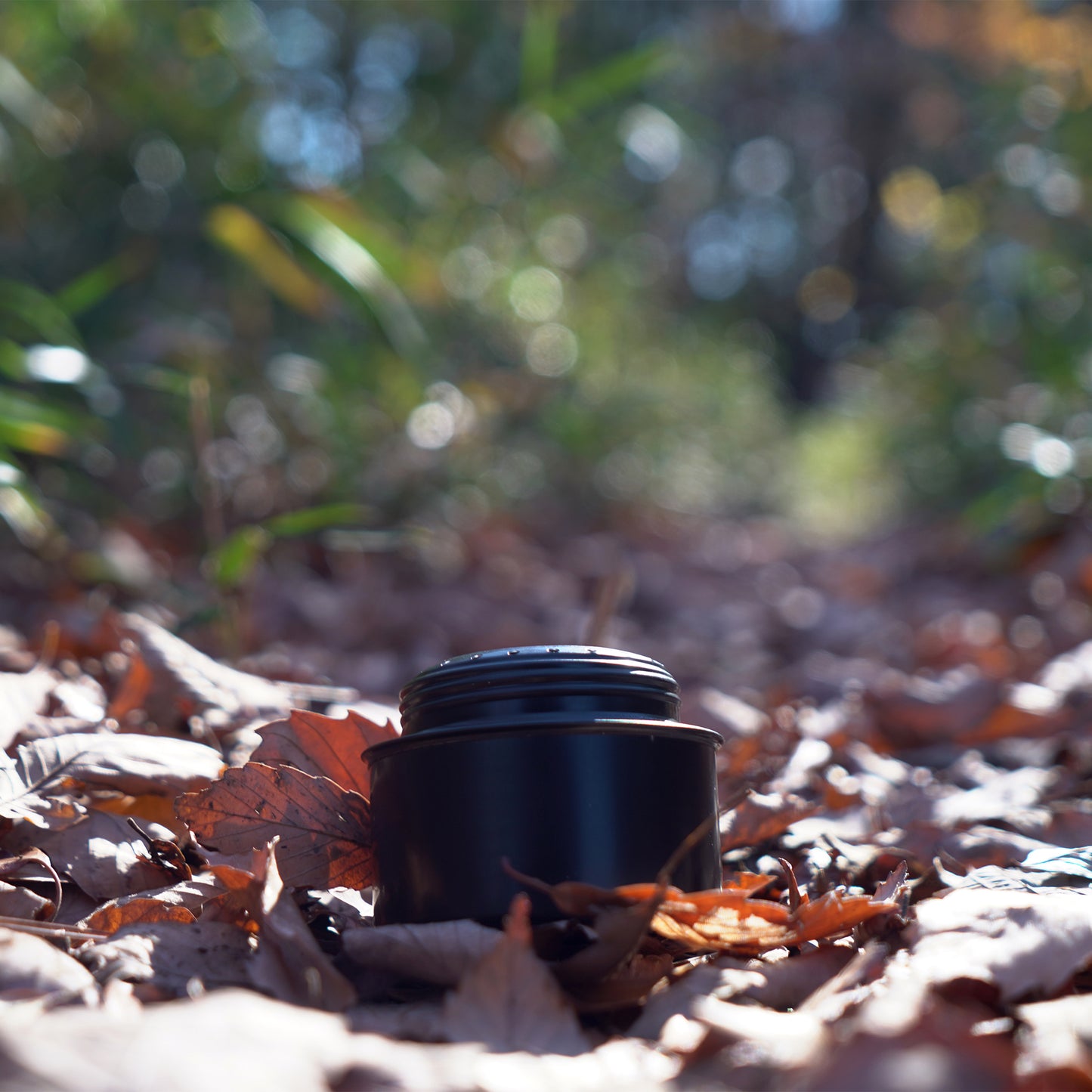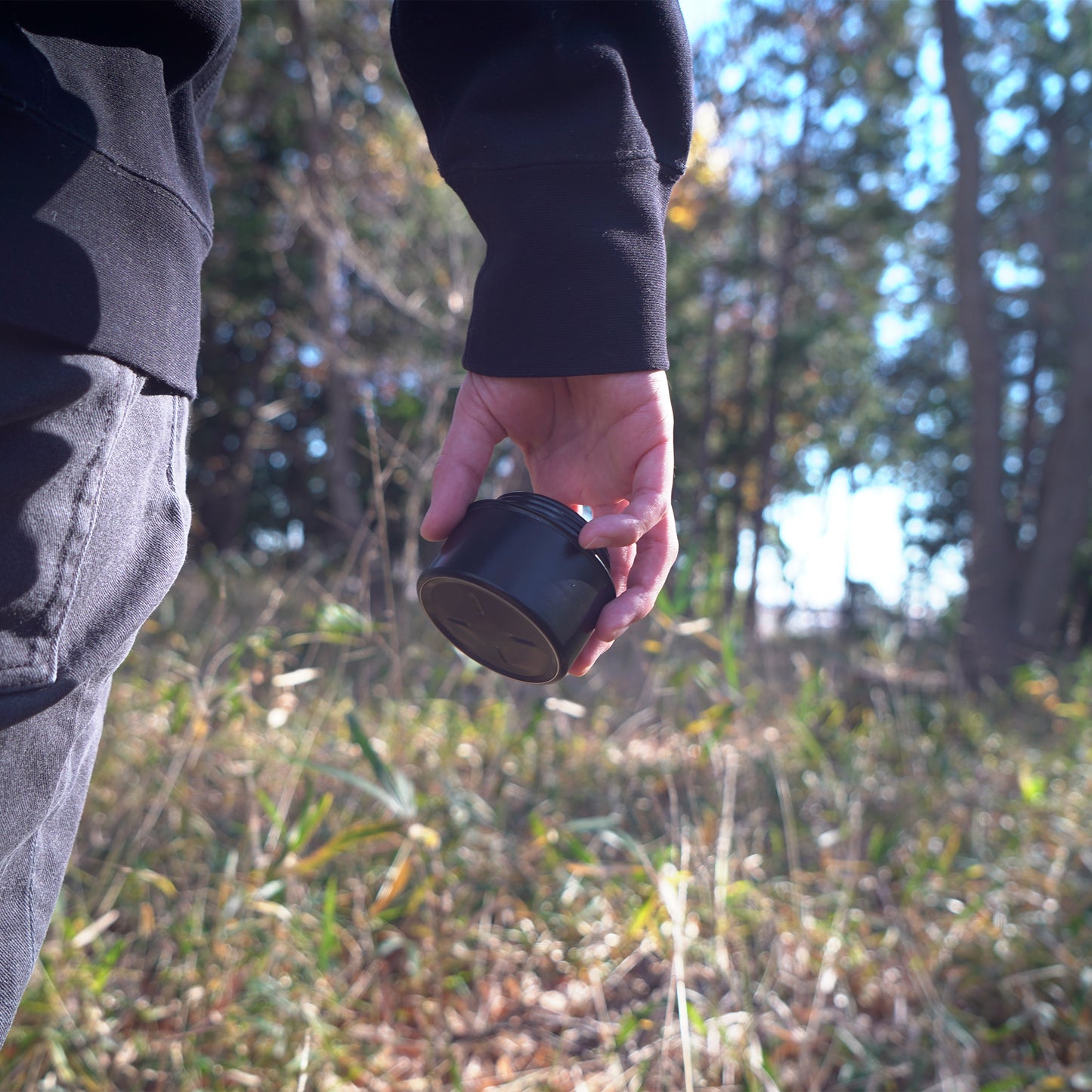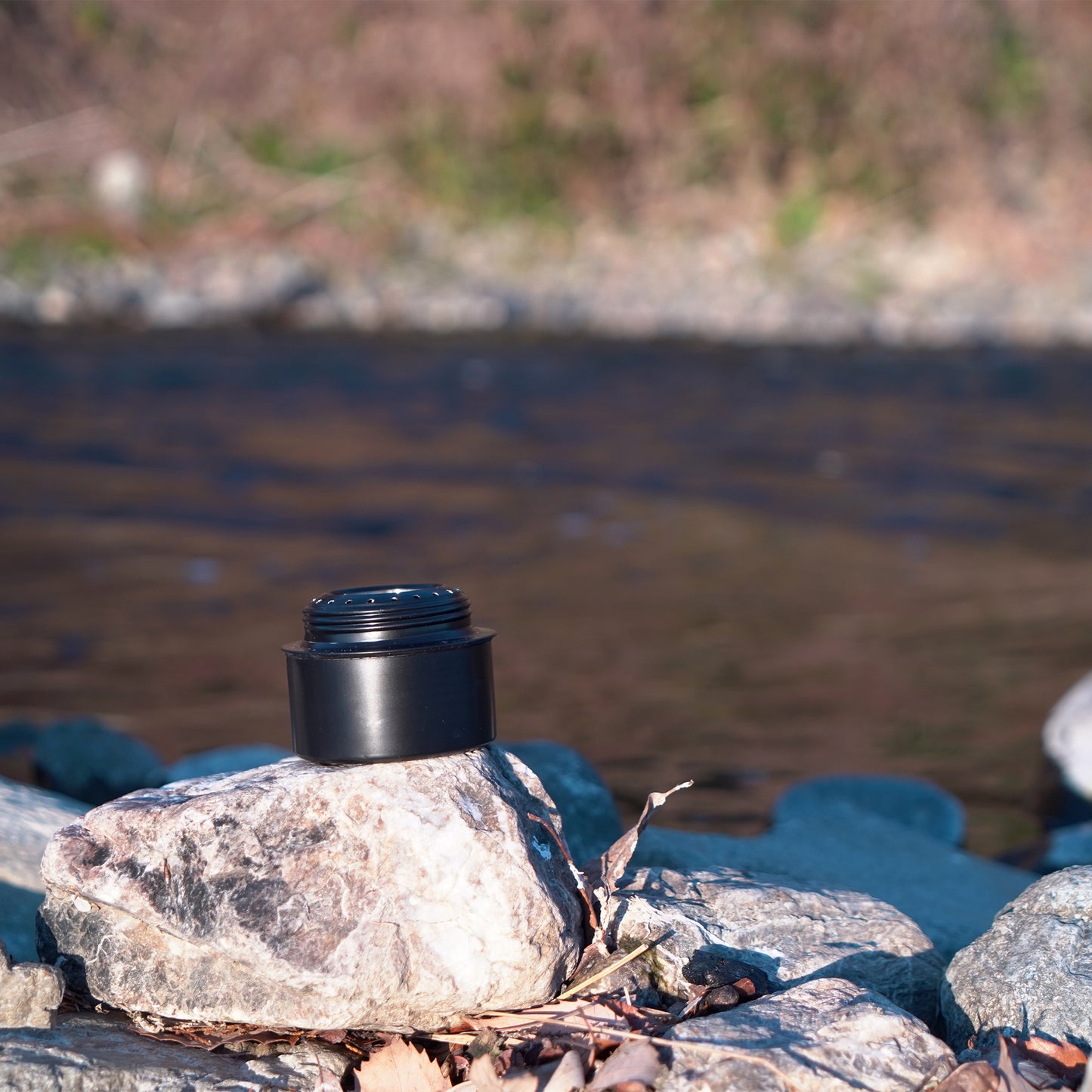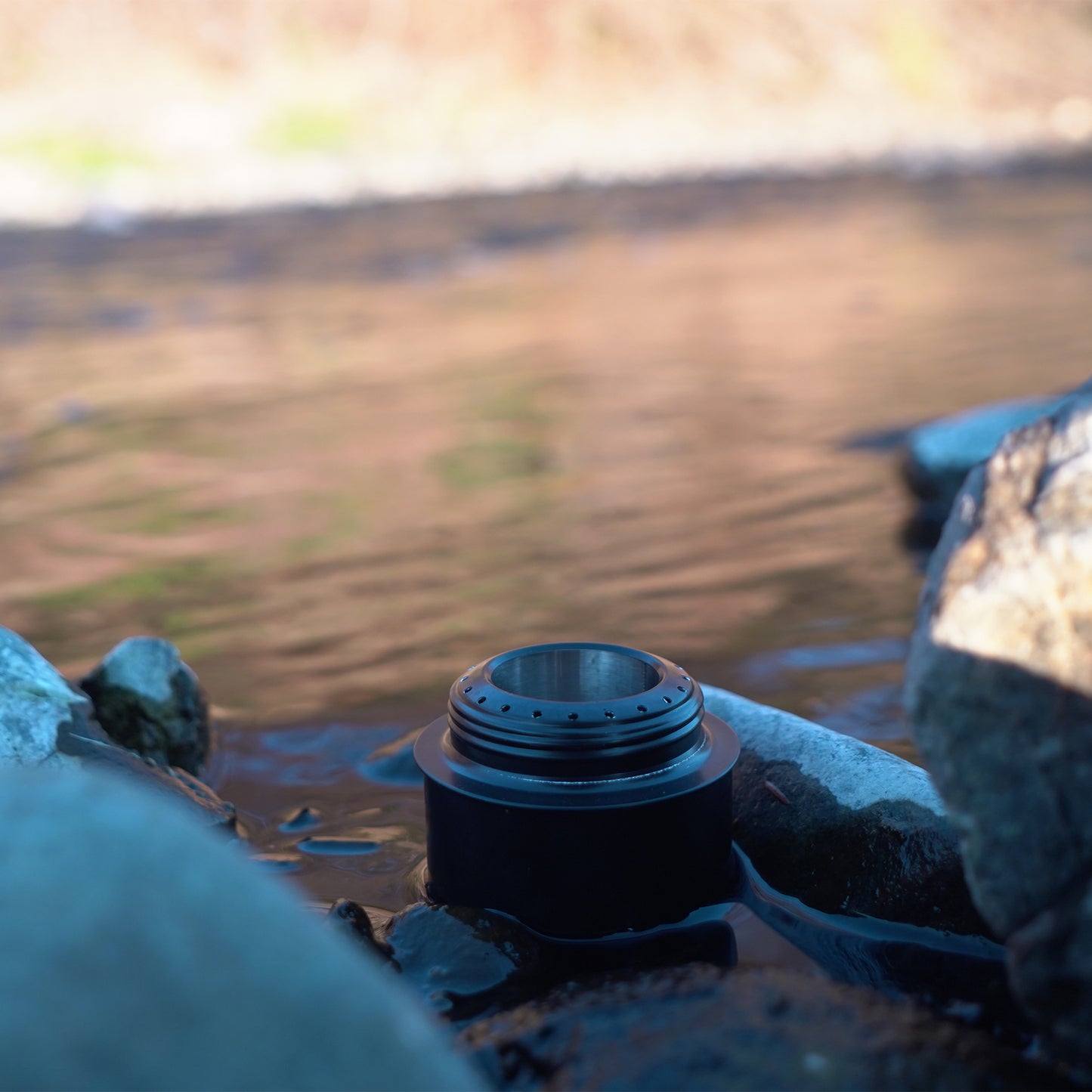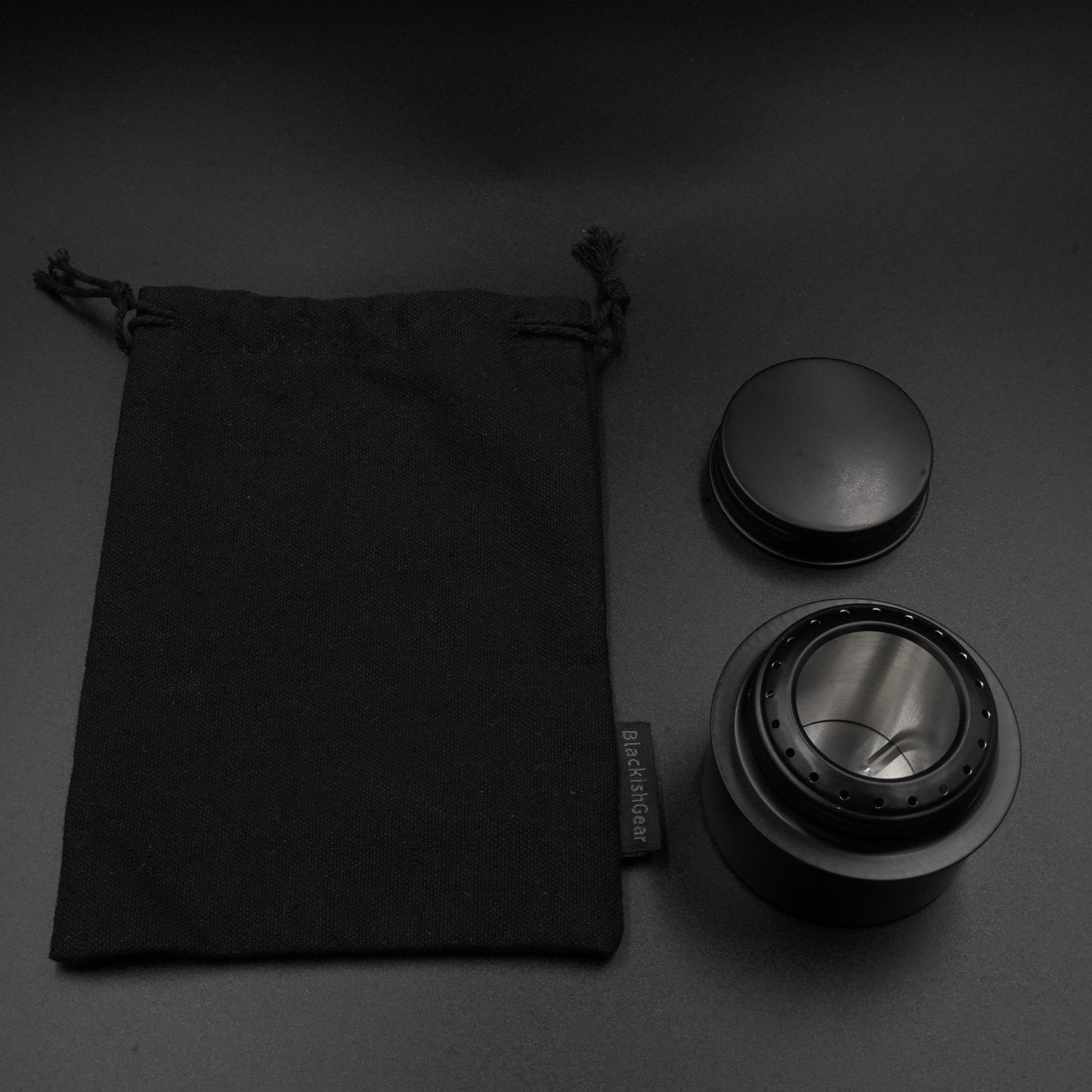 Add LINE official accounts as friends!
BlackishGear's official account provides priority information on pre-orders for new products, as well as information on advantageous coupons and campaigns.
You can also contact us via chat!
Please feel free to add me as a friend.